Men's Shed Carn delighted to receive face masks

30.04.20
MEN'S Shed Carn were delighted this week to receive over 50 face masks from Inishowen Mask Makers.
Philip Doherty from Men's Shed Carn said: "Many of the members of the shed were keen to get hold of face masks for when they have to go out and about for necessary trips. However, many weren't sure how to get hold of these reusable ones. When we put the call out asking if anyone would like a mask, we were surprised at how many members came back to us."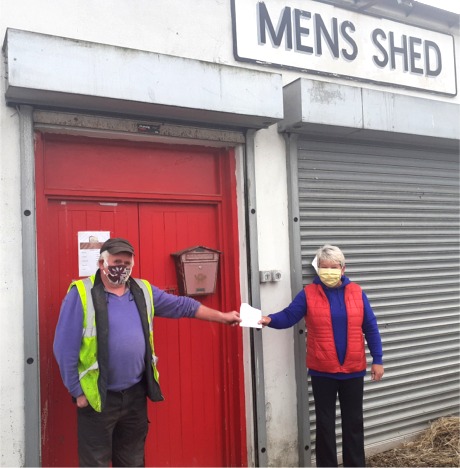 Men's Shed Carn receive over 50 face masks from Inishowen Mask Makers.
Philip continued: "Inishowen Mask Makers and one of its sewers Mary Doherty (Brick), who is also a Men's Shed Carn member, were incredibly generous and made the masks for us and our families with no questions asked. We are delighted to receive them and this means a lot to people who feel vulnerable at the minute and we can't thank them enough.
"Any other members who would like one of these masks is asked to get in touch with us via Facebook or Messenger and we will be happy to arrange for them to get one. The shed members made a small donation to the service and hope that this will enable them to buy more elastic or whatever they need to keep this vital service going."
Mary Doherty, one of the sewers on this project said: "We now have over 60 sewers and cutters from across Inishowen working on this very important service. Anyone else who can sew who would like to give some of their time is asked to get in touch with Marjorie on Facebook on MMD Embroidery. Similarly, if anyone else need masks please get in touch as we can arrange delivery across Inishowen."