From New York to Dublin via Buncrana

02.06.20
According to a report by the Economist last year there could be 1 billion remote workers globally by 2035. That desk and laptop in the spare room may become a permanent fixture for many Inishowen households.
Covid-19 has presented enormous challenges to business across the world, however one of the greatest opportunities may be ''remote working'' also referred to as ''working from home'' or ''smart working''.
This can benefit employers, employees, congested urban centres and rural areas, through cost reduction, continued productivity and growing rural populations. The restrictions on travel and going to work have seen many talented professions come to Inishowen to work remotely in a safe and connected environment.
Just two of those are Nicola Duffy, a New York lawyer originally from Buncrana and her brother in-law Mayo man Declan McGuire, a Technical Director for Boulder Media, a Dublin based visual effects studio.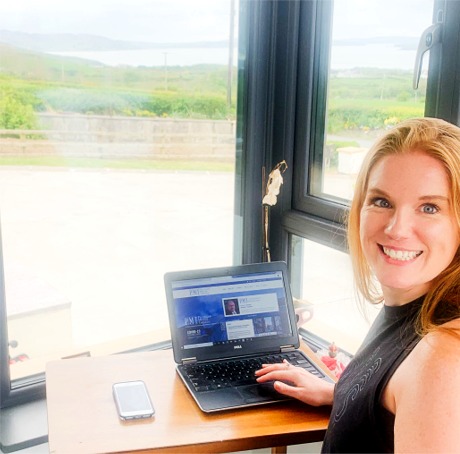 New York based lawyer Nicola Duffy enjoying her time remote working from Buncrana.
Before Covid-19 struck Nicola was working between court and an office on Wall Street. She had the option to work remotely but generally preferred the office to separate work and home life. Since moving back to Buncrana she has been operating on New York hours, which means later starts and finishes. Despite spending ''much more time in front of a computer now than before'' and in a very different environment, her productivity hasn't been affected and by in large hasn't experienced any connectivity issues working in rural Inishowen.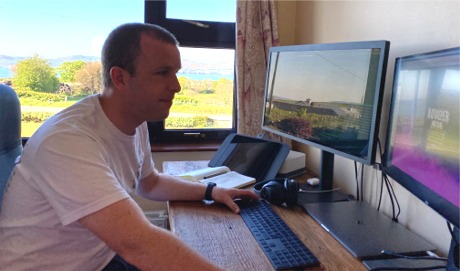 Declan McGuire, Technical Director for Boulder Media in Dublin, working from his home in Buncrana.
After spending 8 years building his career in London, Declan moved to Dublin in 2017 to work on an exciting project which he hopes will become the first CG (Computer Generated) movie fully produced in Ireland. Before lockdown his studio had the facilities to work remotely but it was only used one or twice a month. For Declan ''working remotely in Donegal is a dream come true''. Declan uses quite graphic heavy programs during his working day but connectivity here (in rural Inishowen) has actually been better than some of his colleagues in Dublin.
In addition he says that ''there can be a lot of interruptions in an open plan office, my productivity has definitely increased by quite a bit since I started working from home.''
One of the best aspects of remote working in Buncrana for Declan is that ''even though my work can be quite fast paced the pace of life here is so much better and not as crazy as living in a city like London or Dublin. The scenery is also incredible and everybody is so friendly.'' He hopes that once this pandemic has passed companies will see the benefits of allowing employees to work remotely. ''After a couple of months in Donegal I don't plan to leave any time soon'' Declan proudly states.
For Nicola, (once restrictions are lifted) she will need to return to New York as her job requires frequent court appearances. However being back in Buncrana has been great to connect with family and if she was able to work remotely she ''couldn't think of a better place to do it''.
The in-laws also offer some prudent advice for remote workers. Some tips include ''making a schedule each day and be pretty strict about it'', while also ''if possible, designate a room as office space so you can enter it in the morning and leave it once work is done so you can set some boundaries.'' One challenge identified by both was that they occasionally get distracted by the stunning views overlooking Lough Swilly.