New Donegal company hits right note with trad music tours

04.03.20
A new tour company is offering guests a unique taste of Donegal's traditional music scene, promising guests they will "feel like part of the family" as part of the experience.
Inishowen-based Reel Irish Music Tours provides fully immersive packages for visitors keen to explore one of Ireland's most beautiful and culturally-rich counties.
Tourists, whether musicians or music lovers, are accompanied for the entirety of their journey by company founders Louise Doherty and Lisa O'Donnell.
Also travelling on each tour will be a lead musician and local musician friends who will keep everyone entertained along the way.
One of the most appealing aspects of the new venture is its intimacy, with a maximum of only 25 guests per tour.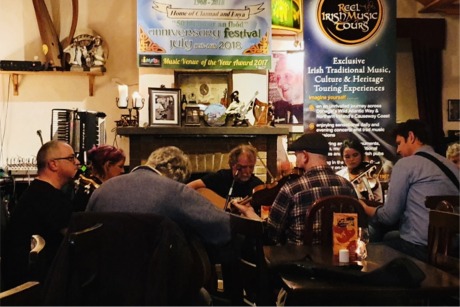 For more info about Reel Irish Music Tours visit www.reelirishmusictours.ie .
Solo travellers are especially encouraged knowing that people with local knowledge will look after them from when they arrive until they leave.
Lisa and Louise are well known around Donegal and guests always find it amusing that they are on first name terms with everybody they meet.
Marketing executive Lisa's late father P.V. O'Donnell, was a renowned fiddle player from the band Barley Bree along with Tyrone bothers Tom and Jimmy Sweeney (nephews of Tommy Makem).
Louise, meanwhile, is an accomplished classical pianist and has been teaching piano and music theory for over 30 years.
She plays in a local Irish traditional music band and is a familiar face on the trad circuit as an accompanist.
Reel Irish Music Tours promises something for everyone, whether it's a great day out on one of its 'Saturday Sessions' or 'Craic agus Ceol' tours, or week-long packages including hotel accommodation, meals, special music sessions, story-telling and visits to top local attractions.
Among the special packages on offer for 2020 is 'The Reel Donegal Experience' beginning on July 2 in the company of acclaimed Donegal fiddle player Ciaran Tourish, formerly of Altan.
Guests of Reel Irish Music Tours can be sure of the warmest welcome and endless enthusiasm for Donegal and its vibrant heritage, in the company of real Irish musical talent.
For more information and booking details, see www.reelirishmusictours.ie .