Read DL is poetry in motion

17.02.20
OVER 2,000 people across Donegal are setting off on a poetic journey this spring with the launch of Read DL 2020. The "One Book, One Community" reading initiative has teamed up with the office of the Laureate na nÓg to deliver a twist to their annual reading adventure with an aim to spark an interest in poetry.
The current Laureate na nÓg, Sarah Crossan is a renowned poet and fiction author for children and young adults with Donegal roots. Under the partnership, five workshops will be delivered in primary schools across Donegal where local poet Denise Blake will work with children to create their own poems. A select number of these poems will be read aloud to the audience at the Read DL closing ceremony at the Balor at the end of March.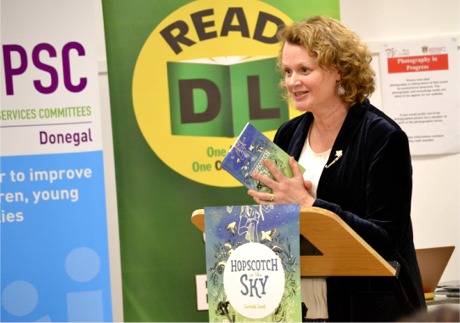 Local poet, Denise Blake, reading from this year's chosen book, 'Hopscotch in the Sky'.
This year, Read DL is celebrating 10 years of partnership between the stakeholders involved. Good working relationships have been established with the common aim of building a sense of community while promoting the value of reading and literacy.
This year's chosen book is 'Hopscotch in the Sky' by Lucinda Jacob which is a beautifully written accessible collection of poems. Lucinda is a poet, illustrator and author of fiction for young people. This beautiful book also includes a rainbow of enchanting illustration by award-winning artist Lauren O'Neill.
Speaking on behalf of the Read DL committee at the launch, Karen Sheehy Staff Officer with Donegal County Library Service encourages participants to seek out poems that resonate with them. "This year's book was selected not just for its wonderful poems and beautiful illustrations, but also because it is a wonderful introduction or re-introduction to poetry in a way that is simple and accessible for everyone. Let it be a stepping stone for further exploration".
Denise Blake reiterated this sentiment in her address, encouraging reading in the home. There is also an opportunity for budding poets to enter the Read DL writing competition and attend a series of community-based events county-wide so there's plenty to get involved in.
Copies of the book are available at your local library. Visit www.donegallibrary.ie to reserve your copy.
You can also visit www.readdonegal.com for further information.