Take a closer look at your library
26.02.20
ON Saturday February 29, libraries around the country, including Inishowen, are taking part in the first ever National Library Open Day. Our libraries are open most days but this Saturday you have a special invitation to come in and see everything that's on offer. Events taking place on the open day include:

Buncrana Community Library from 12.30pm to 1.30pm
• Experimental art class (suitable for 6-12 year olds).

Carndonagh Library from 10am to 11am
• Experimental art class (suitable for 6-12 year olds).

Central Library Letterkenny from 10am to 2.30pm
• Story Time at 12pm followed by a demonstration of the 3D printer and the Tovertafel.
• Table top games and welcome packs will also be available to visitors.
• Demonstrations in the use of the new Library tablets will also be available.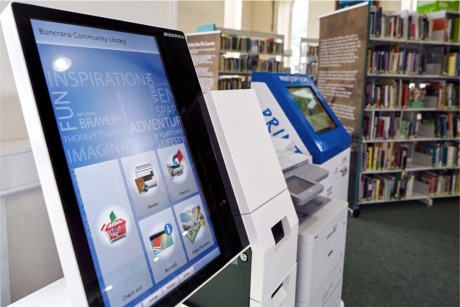 Check out the Self Issue Kiosks and Surfbox at Buncrana Community Library.
If it's been a while since you've been in your local library, you might be surprised at what you'll find. Libraries are open community spaces with lots going on for everyone of all ages and interests. Come along to your local library on the open day to get a taste of the clubs, classes, exhibitions, activities and more.
Library staff will be on hand to show you how your library membership allows you to borrow from 12 million items; choose from more box set options than Netflix, get eBooks, audiobooks, eMagazines and eNewspapers free and straight to your device or try free online learning and language classes.
So, if it's been a while since you've visited your library or even if you're a regular user, please come and take a closer look at what's on offer this Saturday. For more information on what Donegal County Library Service has to offer visit www.donegallibrary.ie .