Survey begins at St Mura's Cross

27
.10.20
NEW technology based monitoring began last Thursday in Fahan old graveyard to establish whether or not the 1,400 year-old St Mura's Cross is tilting at an unsafe angle.
Thanks to a grant of €2,360 under the new Community Monuments Fund the important work to preserve the ancient cross can now be carried out by John Cronin Archaeologists for Fahan Heritage Group.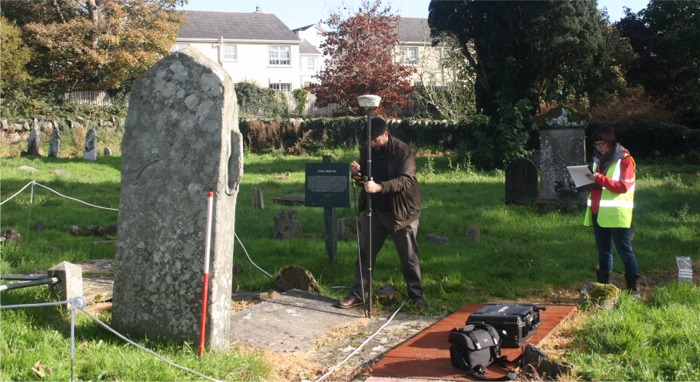 The survey team commence their work at St Mura's Cross in Fahan, Inishowen.
Archaeologist Kate Robb explained that this technology has not been used before to plot whether or not the cross is tilting.
Her colleague Andras Hindlie placed three markers in the graveyard which are located using GPS and he will use rectify photography and auto cad overlays, measuring the angle of the cross three times a year over the next five years.
"We will get detailed pictures from the exact three points each time and take a digital profile of the ground which will show if the cross is still tilting.
"There are so many layers of burials around the cross there will be cavities in the ground. The work we have begun today will inform us if intervention is necessary to stabilise the cross," Ms Robb said.