Leo McCauley releases his debut album '57 Ghosts'
18.08.20
LOCAL singer / song writer Leo McCauley has just released his debut album, '57 Ghosts'. It follows on from his three song EP 'The Man Who Burst the Bubble' released in 2017.
Leo explains, "As this is my debut album, it is a collection of songs written over a number of years. Eleven different songs but maybe all with a life theme. I find it easier to write songs about events or stories. Iíve been told sometimes that my introductions can be as long as the songs themselves. However itís good to put a song in context especially for someone who is hearing it for the first time.
I released a three song EP 'The Man Who Burst the Bubble' a few years ago and I found it a great experience that has stood me in good stead with this album."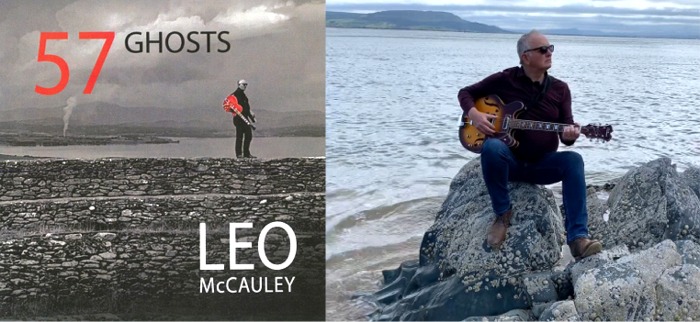 Leo continued, "The opening track 'Blink of an Eye' is about a near death experience that happened to me on Moville Green at the back of the Foyle Hotel when I was about 10 years old. Letís just say that without the assistance of my childhood friend Thomas OíFlaherty, I might not have survived the experience.
My son James and myself have filmed a video for this song based around the beautiful Moville Green and Shorefront. 'Blink of an Eye' is going to be the first single from the album. This along with the video will be released in a few weeks."
Other songs on the album 'Valley of Shame' and 'Beauty and Grace' are more personal about loved ones who are no longer with us today.
'Familiar' another song which Leo has performed many times has been now given an almost country arrangement and still sounds as fresh as when he wrote it ten years ago.
'Even Sylvia Smiles' is a refreshing tribute to a great young woman. The song 'Gathering' is a homage to Irish people coming home to spend time and money in their owl sod despite the begrudgers.
'Saviour' is a gospel song which is also a tribute to the brilliant Moville Gospel Choir in which Leo was involved with as a singer and musician.
'The Man Who Burst The Bubble' and 'Israeli Rain' are the political themed songs in the album focusing on the bank collapse ten years ago and the ongoing tragedy that is Gazza in the Middle East.
'Sundown over Blanket Street' is a moody and reflective song Leo wrote about a mystical place that is not too far away. An earlier version of this song was recorded and released last year in collaboration with 'The Gerstockers' - a local super group with origins in Moville Library (Larry, Philip, Paul, Seamus, Jason, Harry, Marty & Leo) facilitated by Moville and District Family Resource Centre and Donegal Education & Training Board.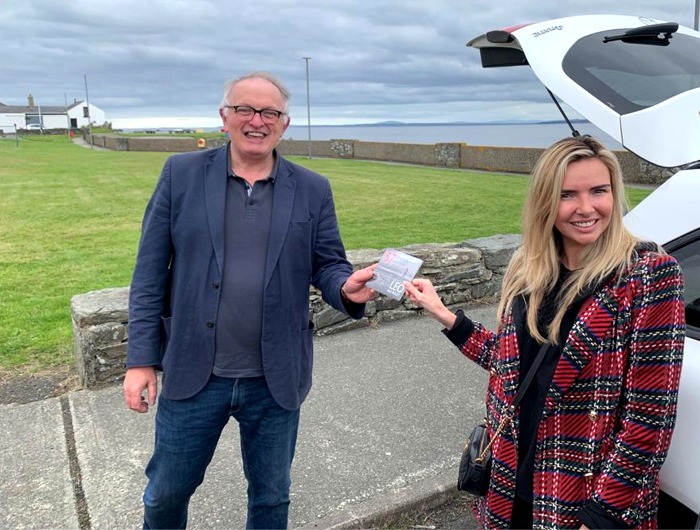 Leo gives a copy of his new album to Nadine Coyle.
Leo added, "57 Ghosts (of Duffyís Cut) is about the massacre of 57 immigrant Irish workers who sailed from Derry to work on the railways in Pennsylvania in 1832. It is a song I wrote almost nine years ago. I performed it many times with Moville Gospel Choir locally and also in Ardara Church at the graveside John Ruddy, one of the victims of the massacre. My original home studio recording of it also been played on radio in the US. I suppose it is a fitting song to label my collection of eleven similar but disparate songs.
All eleven songs would not have turned out as they did without the magnificent production of Brian McMonagle and Jim Walker at Beechwood Recording in Derry as well as the brilliant musical and vocal accompaniment of Gerry McNeilly, Marianne Ashcroft, Hannah Peoples and Patricia McLaughlin. I owe them all so much.
When we were recording the album at Beechwood Recording in late 2018 and early 2019 the guys in the studio felt the album had an early 1970s feel about it. Well I canít argue with that as many of influences come from that period (Neil Young, Rolling Stones, David Bowie, Van Morrison, etc). However, I like to feel that later more modern influences can be detected (ie Ryan Adams, Crowded House, U2, Christy Moore, Paul Brady). But as the owl saying goes music is in the ear of the beholder. They are all new songs and I hope people will enjoy them for what they are.
Itís amazing how music is evolving. Traditionally you had to get a record or a cd out to stores for people to buy to listen. Nowadays with the digital age many people donít even have a cd player. In fact many modern cars donít have cd players. So my album is now available on the digital platforms... Spotify, Apple Music, iTunes, Google Play, YouTube Music and Amazon Music. The streaming is brilliant when you get the hang of it but itís still frustrating when that owl Alexa bird still canít recognise my accent."

Leo's album was recorded in mid 2019 but he spent a lot of time getting the artwork and metadata information right. Leo said, "I would like to pay tribute to Alan Reid Design of Stranorlar - a long time collaborator of mine for his stunning album artwork. I also can't forget the brilliant photography, video and drone work of my son James. This will be evident when we release the 'Blink' video.
How do I do a launch? Lockdown has caused so much problems for live performances. However the same Lockdown has seen so much innovation in people getting music collaborations out there. I have a few ideas about a live launch but at this stage I would like it as a full band structure. So watch this space for upcoming announcements."
The '57 Ghosts' CD is now available to buy locally at Gillenís Shop, Centra Garage and McCauley Properties in Moville.