A tribute to John Hume

04.08.20
THE people of Inishowen were proud to have John Hume living among them for many years. The community demonstrated this when they gathered together back in 2011 to hold a special tribute dinner in his honour. Below is a short clip of John singing one of his favourite songs, 'Danny Boy', on the night accompanied by The Henry Girls...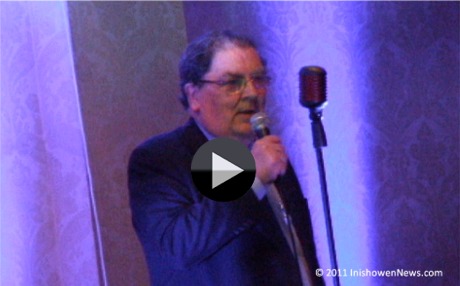 John Hume sings 'Danny Boy' accompanied by The Henry Girls in April 2011. To download click here .
The event in April that year, was held in Moville where the Nobel laureate and his wife Pat kept a home for over 35 years. Pat said the people of the area held a "very special" place in their hearts.
The family of Mr Hume, who died yesterday after a long illness, have asked people to remember him by lighting a candle for peace in their homes tonight at 9pm.

The Bishop of Derry and Raphoe, Rt Rev Andrew Forster said today: "I am deeply saddened to learn of the death of the Nobel peace laureate, John Hume Ė one of the giants of modern Irish history.
John achieved what many people had thought impossible by plotting a course through the previously uncharted waters of peace in Northern Ireland. He mapped out a route which addressed what he called 'the totality of relationships in these islands': between Unionists and Nationalists; north and south; Britain and Ireland. The approach he prescribed gave rise to our modern peace process.
Those of us who grew up during the Troubles recognise that Northern Ireland is a better place now because of the courage and commitment of people like John Hume. We owe him and them an enormous debt for what they achieved on our behalf. We would now honour John best by completing that quest to build a better society and a peace that endures.
I offer my sincere condolences to Johnís devoted wife, Pat, and to their five children, and assure the family that they are to the fore in my prayers at this very sad time."