GoSafe camera zones in Inishowen

11.02.20
SINCE 2010, An Garda Síochána has used service provider 'GoSafe' to operate safety cameras on its behalf. The primary purpose of safety cameras is to reduce speed related collisions, lessen injuries and save lives.
Safety cameras operate in areas where there is a history of speed related collisions using a fleet of marked vehicles. Road deaths have decreased from 415 in 2000 to 148 in 2019. This shows a dramatic reduction and a huge increase in terms of road safety.
GoSafe monitoring commenced operation in November 2010 and up to end of January 2020 they have completed over 800,000 hours of enforcement and checked over 248m vehicles.
More than 1.5m fixed charge notices for speeding offences have been issued in the same time by Garda and GoSafe. The number of vehicles detected in excess of the speed limit is on average less than 1 vehicle per hour of monitoring.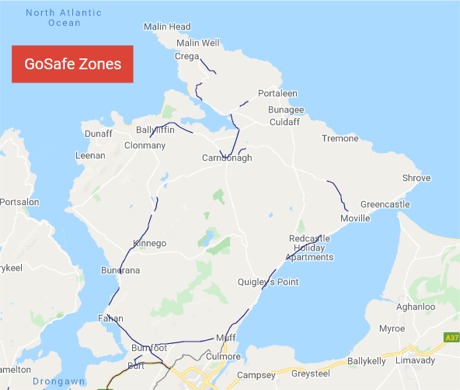 GoSafe camera zones in Inishowen. View all zones on the Garda website .
An Garda Síochána recently initiated an updated collision analysis of the road network based on the most recent available collision statistics. The objective was to take a proactive approach in the prevention of fatalities and life changing injuries by identifying 'GoSafe' monitoring locations and in particular areas not currently being monitored by 'GoSafe' where collisions occurred.
In total, there are now 1,322 speed enforcement zones nationwide, including 903 new zones, where safety cameras will operate effective from 6am on Monday 17th February 2020.
Commenting on the review Ms. Moyagh Murdock, Chief Executive, Road Safety Authority said, "Speed remains the single biggest contributory factor to road deaths in this country and is estimated to be a factor in a third of fatal crashes. Driving too fast increases your risk of being involved in a crash and increases the severity of a crash.
Safety cameras have been in operation in this country for a decade now and are proven lifesavers. Deaths and injuries, as a result of speeding, in collision prone zones where they are located have dropped. I welcome this review of locations by An Garda Síochána, which is based on speed related crash data and I would remind people that the locations can be found on the Garda website ."