Carndonagh charity shop goes online
09.11.20
SPRAOÍ agus Spórt have partnered with Dublin based company Thriftify to launch a new online version of its Fadó charity shop in Carndonagh. The online shop is bringing hundreds of donated items to a wider market and unlocking the fundraising potential of e-commerce during the Covid-19 restrictions.
Spraoi agus Spórt has been working with Transition Year (TY) students from Carndonagh Community School to help launch the new online charity shop and provide pupils with practical business skills in e-commerce, sustainable fashion and digital marketing.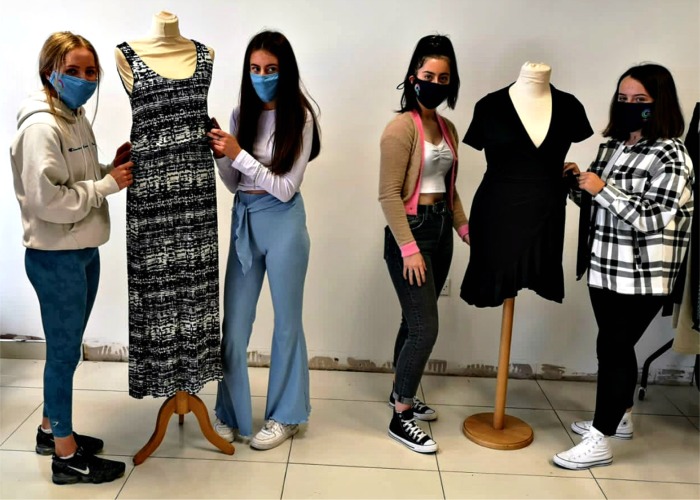 Students from Carndonagh Community School working on the launch of the new online Fadó charity shop (from left to right Alaina Keogh, Aoibhín Nolan, Meadhbh Sweeney and Chloe McLaughlin).
Co-founder and CEO of Spraoi agus Spórt Helen Nolan said: "We're delighted to officially launch our new online charity shop and be joining forces with Thriftify to sell donated items and encourage sustainable and ethical buying".
Thriftify provides a platform which allows Irish charity shops and ethical retailers to easily upload large volumes of second-hand clothes, books and other items for sale online. The Dublin company also works with more than 90 per cent of Irish charity retailers. including St Vincent De Paul and the Jack & Jill Foundation.
Helen explained: "We are always seeking to innovate and improve how we do things at Spraoi agus Spórt and with the temporary closure of our Fadó charity shop due to the coronavirus restrictions we have had to think of new ways to maintain our connections with customers and develop alternative ways to raise funds for our vital services.
"With the fantastic help of staff member Arlene Davenport and the Transition Year students from Carndonagh Community School we have been able to scan over 600 items from Fadó and upload them onto the Thriftify platform, including clothing, books, DVDs and video games. Indeed, we've already shipped over 100 orders so far to almost every county in Ireland!
"It has been a wonderful experience to work alongside my daughter Aoibhín and five other TY students on this project (Meadhbh Sweeney, Alaina Keogh, Rosanna McConalogue, Valerie Grant & Chloe McLaughlin) which has helped all of them to develop practical, real-life business skills in e-commerce, sustainable fashion and digital marketing.
"I would also like to take this opportunity to say a huge thank you to Carndonagh Community School, TY Co-ordinator, Elaine Farren and the TY students who have helped Spraoi agus Spórt adapt to the Covid-19 crisis and embrace e-commerce as a way of generating much-needed revenue for our social enterprise.
"It is also important to acknowledge the amazing generosity of people from throughout Inishowen who have donated items to Fadó which we really appreciate! Indeed, we want people to know that we still very much welcome donations and that they can also support Spraoi agus Spórt's ongoing work by purchasing items from the Thriftify platform".

Elaine Farren, Transition Year (TY) Co-ordinator at Carndonagh Community School said: "It has been wonderful to see our TY students put to the test in a workplace environment like Spraoi agus Spórt and being able to successfully put their course theory into practice.
"All of the girls are assisting Spraoi agus Spórt by providing their valuable knowledge in helping establish an online presence for Fadó and clearly demonstrating their key skills in the areas of advertising, marketing and planning.
"Not only has Spraoi agus Spórt provided an opportunity for the TY students to relate school studies with running a business they have also allowed them to take full responsibility in establishing the Fadó charity shop online. This in turn has improved the students' maturity, confidence and self-reliance.
"Importantly, as a community school we are always grateful to the local community and local businesses in providing opportunities for our students to gain valuable insights into the world of work."

To purchase any of the over 600 items from Fadó uploaded to the Thriftify platform please visit www.thriftify.ie .

To find out more about donating items to Fadó phone 074 937 3303 or email support@spraoiagussport.ie .