Plans for new 'Digital & Creative Hub' in Carn

17.06.20
SPRAOI agus Spórt have developed exciting new plans for a €450k 'Digital & Creative Hub' in Carndonagh which will support local entrepreneurship and the creative economy. It is hoped the hub will be a key economic driver in the recovery of the town and surrounding areas following the Covid-19 crisis.
The aim is for the hub to incorporate a 'FabLab' (digital fabrication laboratory & technology centre), a 'Creative Workspace' (for local artists, designers and craftspeople) and a 'Co-Work Plus' centre (for business startups, entrepreneurs, freelancers and remote workers).
Co-founder and CEO of Spraoi agus Spórt Helen Nolan said: "I'm delighted to be involved in this amazing project which will be critical for the regeneration of Carndonagh and the surrounding areas as we emerge from Covid-19.
"Our plans for a new Digital & Creative Hub in the town are dedicated to supporting local entrepreneurship and the creative economy.
"The importance of developing a new Digital & Creative Hub has been brought to the fore in recent months with our FabLab making PPE (visors) that have played a key role in protecting local frontline workers.
"Plans to develop our new Digital & Creative Hub include having such 'maker' equipment as 3D printers and laser cutters available which can be used in the production of PPE – as well as other types of tools including sewing machines and a community loom which can be utilised by local designers, artists and craftspeople.
"We therefore hope to see our new hub being used by people of all ages and abilities in order to play, create and learn through innovation and invention – and importantly provide a stimulus for local entrepreneurship as an accelerator for business start-ups".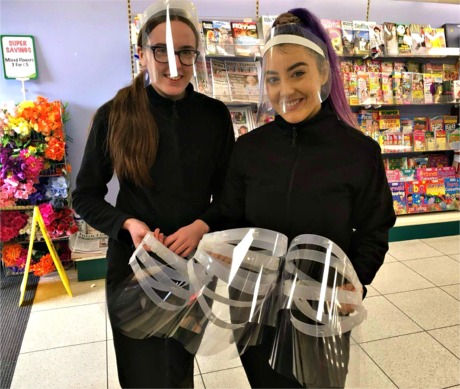 Frontline workers, Caoimhe & Niamh from Simpson's Supermarket, wearing the protective visors made by the FabLab in Carndonagh.
Helen Nolan also says that their proposed plans for the new Digital & Creative Hub will be a huge undertaking for the social enterprise that will require significant investment, resources and effort.
"We have identified premises for our new Digital & Creative Hub at a central location in the town. However, the vacant building will require considerable refurbishment" she said.
"We have identified the costs involved in bringing this exciting project to fruition and have developed a plan to raise the necessary funding. We anticipate that the total cost of the project will be approximately €450k – and we have already secured a third of this figure – €150k. We are also currently in the process of applying for further funding from a number of sources.
"With the establishment of a state-of-the-art Digital & Creative Hub in the town this will not only create new opportunities for local people of all ages and abilities in our area but will also provide a fantastic impetus for the wider regeneration and economic development of Inishowen and highlight the importance of #StayLocal during these uncertain times".