Inishowen man wins Farm Forestry Award
31.08.20
Carndonagh farmer, Ross Buchanan is the winner of the RDS Teagasc Farm Forestry Award 2020.
The award is usually presented in front of a packed audience in the RDS Concert Hall as part of the annual Spring Livestock and Forestry Awards, but this year, due to Covid-19 restrictions, Ross received the award at his farm in Inishowen.
From traditional Donegal sheep farming heritage, Ross Buchanan manages 48 hectares of diverse woodlands, which was planted back in 2006. This has opened up new opportunities for farm diversification and as such forestry is now very much an important part of his farm. "Trees were once an integral part of Inishowen's heritage. Restoring some measure of the biodiversity and scenic value of woodland to promote the peninsula is something I would love to see in my lifetime," said Ross.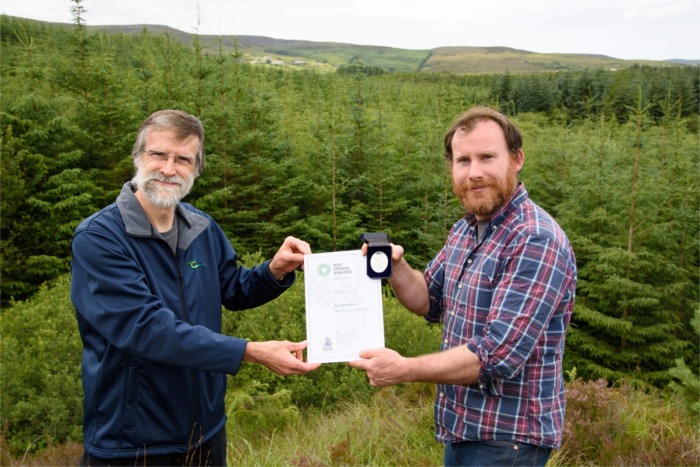 Steven Meyen, Teagasc Forestry Advisor, on the left presents Ross Buchanan with his Farm Forestry Award.
Teagasc Forestry Advisor, Steven Meyen said: "Ross's story shows how farm forests can be a multipurpose resource and meet a range of owner objectives. Applicants for the RDS Teagasc Farm Forestry Award reflect a range of sustainable and innovative approaches to making farming and forests work together with benefits for all."
In congratulating Ross Buchanan on his award, Professor Gerry Boyle, Director of Teagasc said: "This award recognises farmers like Ross who is achieving sustainable integration of his forestry and farming enterprise. This will help farming families and the communities in which they live to build resilience by optimising the many economic, environmental, practical and social benefits that can accrue from farms and forests working together."
For more information on the RDS Teagasc Farm Forestry Award and all aspects of planting, management and training visit, www.teagasc.ie .