Border Economic Stimulus Package for Donegal
17.01.20
ENTERPRISE Ireland held a series of information sessions this week on the recently announced, Border Economic Stimulus Package which includes a €15m enterprise development fund specifically available to projects in the six border counties.
The special €28 million economic stimulus package which applies to counties Donegal, Sligo, Leitrim, Cavan, Monaghan and Louth is designed to drive economic activity in the region and ensure that businesses have additional support in mitigating the impact of Brexit.
The last of the briefings was held in Letterkenny today at 10am, January 17th, in the Radisson Blu Hotel.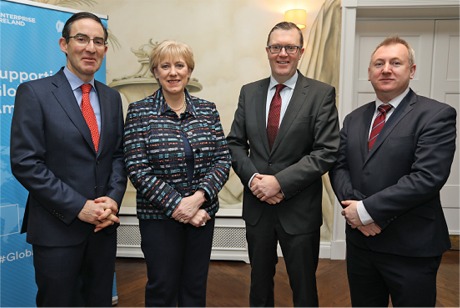 Minister Heather Humphreys pictured with Declan Hughes, Department of Business, Enterprise Ireland Divisional Manager for Regions, Mark Christal and Aidan McKenna, Regional Director.
Enterprise Ireland Regional Director in the North East and North West, Aidan McKenna said, "Since the Brexit referendum in 2016, Enterprise Ireland has been working intensively with client companies across the country, and in particular those in the border region who will be especially exposed.
"It is important that Ireland is ready for the changes that Brexit will bring about, for businesses and consumers. The wide range of supports available from Enterprise Ireland are there to help businesses to prepare in advance for all eventualities.
"The Department of Business and Minister Humphreys this month announced a new Border Stimulus Package that is specifically targeted at supporting enterprise and innovation in the border region in preparation of Britain's exit.
"As part of this, Enterprise Ireland will administer a €15 million Regional Enterprise Development Fund which will be available to projects in the North-East and North-West. We are keen to inform businesses and collaborative projects of the details of the fund, how it can support their work and help contribute to regional communities.
"Applications will be sought from Wednesday, February 5th, 2020 and our team are looking forward to engaging with those interested to get their applications in over the coming weeks."