Buncrana gets light speed fibre optic broadband
12.02.19
MINISTER for Education & Skills Joe McHugh TD has announced a new €14 million investment by SIRO in the rollout of its Fibre-to-the-Building broadband network to six new towns in Donegal – Buncrana, Donegal Town, Ballybofey, Stranorlar, Ballyshannon and Bundoran. This will see over 14,000 homes and premises offered access to Ireland's fastest broadband network.
Currently the most used technology in Ireland, Fibre-to-the-Cabinet, generally delivers speeds of up to 100Mbps. All the fibre optic light speed is lost on the last stretch of copper wire used to connect your house to the exchange.
SIRO is a Fibre-to-the-Home connection. The fibre optic cables run directly to the router inside your house with no loss of signal. This means you get fibre optic light speeds up to 1000Mbps in your home.
SIRO has already commenced construction, with 1,600 homes and businesses in Buncrana already able to avail of gigabit connectivity, and preparatory works are already underway in the five other towns. All of the premises will have a 100% fibre optic connection available, giving them access to the same level of world class broadband in cities like Hong Kong or Tokyo.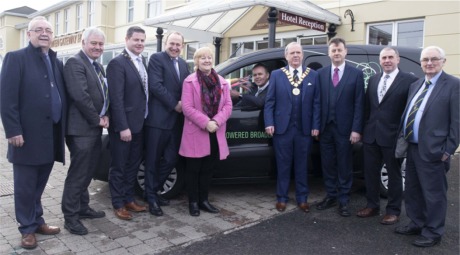 Pictured in Buncrana at the SIRO announcement of a new €14 million investment in the rollout of its Fibre-to-the-Building broadband in Donegal.
Cathaoirleach Cllr. Seamus O'Domhnaill has today welcomed the launch of the SIRO Fibre to the premises broadband roll-out in Donegal.
Speaking at the launch Cllr. O'Domhnaill stated that "the announcement, which will see a further 14,000 premises passed throughout County Donegal in addition to the 11,000 premises already passed by SIRO in Letterkenny, marks an important milestone in Donegal County Council's journey over the last 20 years".
Cllr. Martin Farren Chair of Inishowen MD also welcomed this announcement and was particularly pleased that the announcement was made in Buncrana in Inishowen saying "this is a very important announcement not just for Buncrana but for the entire county. The importance of high speed broadband cannot be overstated in todays world and the digital agenda is especially important for Donegal in terms of job creation and business development and I wish SIRO every success in the roll out of this infrastructure".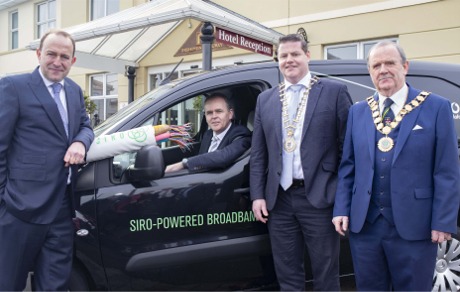 Minister for Education and Skills Joe McHugh TD, Stephen O'Connor, SIRO Director of Corporate Affairs, Cllr Seamus O'Domhnaill, Cathaoirleach of Donegal County Council and Cllr martin Farren, Cathaoirleach Inishowen Municipal District.
In addition to prioritising high speed broadband roll-out, Donegal County Council is leading the implementation of a Digital Strategy for County Donegal.
Brian Boyle, Head of Information Services with the Council added that "one project of note is the creation of a network of Digital Innovation Hubs county-wide, including a very substantial facility on the site of the former Town Council offices in Buncrana. The Inishowen Innovation Hub is of strategic importance to the entire Inishowen peninsula as it will provide a range of innovation, technology transfer and digital enterprise support services to potential start-ups, and existing businesses in the region and it is expected that construction of this new hub will start in the coming months."
Another Donegal digital initiative is the provision of public Wifi and work is underway on planning the deployment of free public WiFi services throughout Donegal following the recent announcement under the Wifi4EU Scheme at the end of last year.
Brian Boyle believes that "as well as providing a key public service, the provision of wide scale public wifi delivers a message about our intent as a county to embrace digital technologies to drive social and economic development, as well as underpin Donegal's growing reputation as a place to reside, work and invest".