Gardaí issue road safety message
31.01.19
SPEAKING on Monday, Chief Superintendent Finbarr Murph from the Garda National Roads Policing Bureau said, "An Garda Síochána is deeply saddened by the horrific death toll on Irish roads over the past week. I want to take this opportunity to send our condolences to all of those affected by these tragic events. An Garda Síochána views any road death as one to many and we will continue to work together with our partners in road safety to build on the reduction in road deaths evidenced over the past number of years.
While we welcome the reduction of fatalities that we have witnessed over the past two years, events over the past week demonstrate that we cannot afford to be complacent in any manner and I appeal to all roads users to be extra vigilant - in particular on dark evenings and while using unlit or poorly lit roads. Be safe, be seen, be careful and be on the alert for other road users.
It is with this in mind that Garda activity across the country will continue to focus on the offences that contribute most significantly to road traffic collisions and in particular the offences of driving while intoxicated and speeding."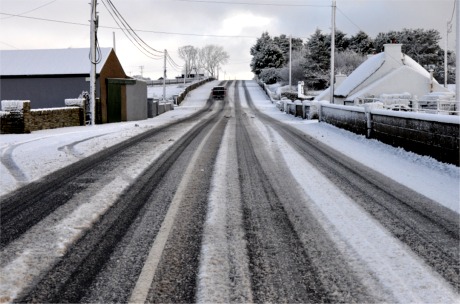 Met Eireann has issued alert warnings of the risk of icy roads and snow this week... slow down and drive at the right speed for the conditions.
Ms. Moyagh Murdock, Chief Executive of the Road Safety Authority said, "We have had a dreadful week on our roads. Ten lives lost, four alone in a single collision in Co Donegal.
Our deepest sympathies are not only with the families of the bereaved who have lost their loved ones over the weekend but indeed with all the families of victims of road crashes so far this year... I hope that this appalling loss of life will serve as a reminder to us all that life is fragile and using the roads is the most dangerous thing we do each day.
Nobody ever believes it will happen to them but tragedy can strike anywhere at any time on the road. We need to remember this every time we set out on a journey.
I would appeal to road users to slow down, drive at the right speed for the conditions and watch out for vulnerable road users. Don't drive when impaired through drink, drugs or fatigue and always wear a seatbelt and ensure passengers are wearing theirs too, no matter how short the trip.
This advice is all the more important given the fact that Met Eireann has issued alert warnings of the risk of icy roads and also sleet and snow this week."