Pledge for no Inishowen road deaths
26.09.19
INISHOWEN motorists are being asked to play their part in reducing the risks on the road today, European Day Without a Road Death.
The continent-wide initiative called 'Project Edward' is supported in Ireland by the Gardaí, the Road Safety Authority (RSA) and local authorities among other agencies.
The initiative has been organised by the Traffic Police network in Europe (TISPOL) and its aim is for no-one to die on the roads of Europe today, Thursday, September 26, 2019.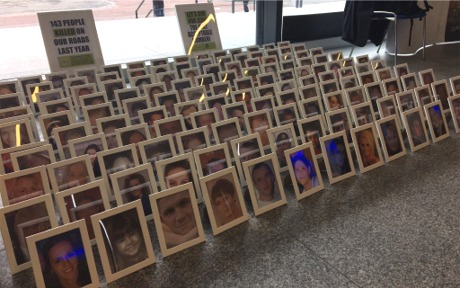 The faces of 143 people who were killed on Ireland's roads last year.
TISPOL Acting General Secretary, Aidan Reid said:
"We are proud that Project EDWARD has become a high point of the road safety calendar.
This year our focus is this simple concept: 'We're all more vulnerable than we think'. So we are calling on all road users to play their part in reducing the risks they face – and the risks they pose to others."

"On Edward day, please:
• Be aware of others using the road.
• Slow down.
• Don't drive if you have been drinking alcohol or taking drugs.
• Don't use your phone while driving.
• Be particularly mindful of pedestrians, pedal cyclists, motorcyclists and other more vulnerable road users."

"We invite everyone to support #ProjectEDWARD by signing the pledge at www.projectedward.org and by using social media (#ProjectEDWARD) to share a 'zero' image for no road deaths – on Thursday and on every day."