Inishowen projects urged to apply for funding
13.09.19
AMBITIOUS projects in Inishowen are urged to apply to the Regional Enterprise Development Fund (REDF) for funding.
The REDF which is an open national competitive call to stimulate and support regional projects and initiatives, is provided by the Department of Business, Enterprise and Innovation, through Enterprise Ireland.
Under a competitive process, applications are now being sought for funding under three streams with varying investment levels:
• Strategic Change Projects – to support major collaborative initiatives with high impact on regional development with funding up to €5m per project.
• Regional Strengthening Projects – designed to elevate new local community based or regional initiatives to address identified gaps in the enterprise ecosystem with funding up to €500k per project.
• Enterprise Clustering Projects – the scheme is aimed at enterprise clustering and supporting the further growth of established industry clusters regionally; by sector and nationally with funding up to €350k per project.
The closing date for applications is 3pm sharp on Wednesday, September 25th, 2019.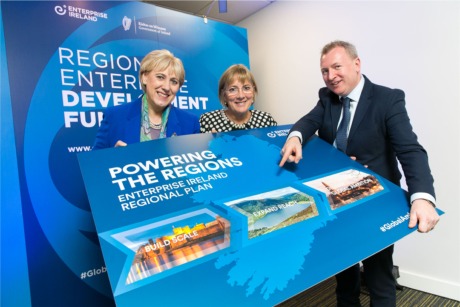 The Minister for Business, Enterprise and Innovation, Heather Humphreys TD (left), pictured with Julie Sinnamon and Aidan McKenna.
Speaking in advance of the closing date in two weeks' time, Enterprise Ireland's Director for the North West and North East Regions, Aidan McKenna said: "The competitive Regional Enterprise Development Fund is available to help get suitable projects off the ground that can drive the future of local communities and regions nationwide.
"There may be a great deal of uncertainty at the moment surrounding things like tariffs or customs procedures for cross-border trade but protecting the sustainable development of our region across the North West and North East can be aided if those involved in a project or initiative come forward and apply to this fund.
"The talented people committed to projects such as the Inishowen Digital Innovation Hub and the Leitrim Food Enterprise Zone, which have both successfully applied for this fund in recent years, demonstrate that if properly backed, they can benefit local communities and the whole region."
Full details on the fund including application forms can be found here .