Muff Liquor In Good Spirits for Philly showcase

17.05.18
THE Muff Liquor Company is one of two North West companies in Philadelphia this week to take part in a prestigious Irish American Chamber of Commerce (IACC) craft drinks event.
Muff Liquor Company from Donegal and Derry-based Baronscourt Brewing Company will showcase their produce as well as connecting with drinks distributors and business leaders with a view to expanding their networks into the Greater Philadelphia region.
The companies will travel along with representatives from the Local Enterprise Office in Donegal and Derry City and Strabane District Council to participate in the prestigious "In Good Spirits" event.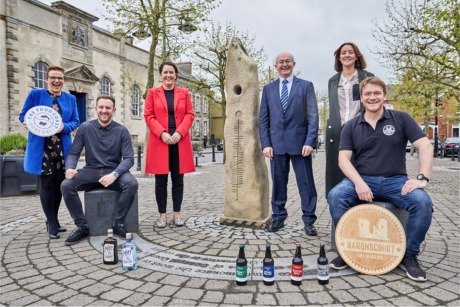 Left to right Eve Anne McCarron, Donegal LEO; Niall McColgan from The Muff Liquor Company, Catherine Golligher, Derry City and Strabane District Council, Michael Tunney, Head of Enterprise with the Donegal Local Enterprise Office, Laverne O'Donnell, Derry City and Strabane District Council and John Wauchob, Baronscourt Brewing company.
The Councils have been working closely with the IACC to promote the North West region and are delighted that Muff Liquor and Baronscourt Brewing can avail of the unique opportunity to further develop their exports into the US market.
Head of Enterprise in Donegal, Michael Tunney said "We have an amazing cohort of businesses in Donegal and we are working hard now with our businesses to find out what really drives the people who are exporting so we can help others achieve that too. This trip is just one part of that strategy and we are confident that the links we have been forging over the past few years in places like Philadelphia, Boston and New York through the Diaspora project will bear fruit for businesses here."
The delegation departed to Philadelphia on Wednesday 15th May.
Further trade missions are scheduled to take place to both Boston and Philadelphia in November when both Councils will be supporting a range of local companies to assess their readiness to export and gear up to target and explore new business opportunities in export markets.