Tommy Bowe in the line up for Enterprise Week
08.02.19
FORMER Irish Rugby star Tommy Bowe, Donegal captain Michael Murphy and Camogie star Anna Geary, are all among a fantastic line-up of speakers due in Donegal from March 4-8 as part of this year's Donegal Local Enterprise Week.
The theme for the week is 'Peak Performance' and topics from engineering to food, finance to social media will be covered in an array of events in venues right around the county.
The week-long programme put together by staff at Donegal Local Enterprise Office in conjunction with partner agencies, and private sector businesses, will kick-off on Monday 4th March with an official opening by Cathaoirleach, Seamus O'Domhnaill, when three Donegal businesses who are driving their enterprise onwards and upwards will tell their inspiring stories.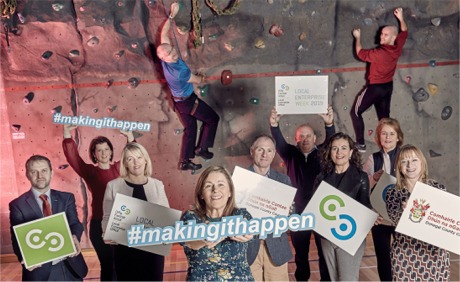 Staff from Local Enterprise Office, Donegal and partner agencies pictured at the launch of Local Enterprise Week, which this year has 'Peak Performance' as its theme.
Hosted by broadcaster Anton Savage, successful local businesses David Gildea of Cloud Ranger, Larissa Feeney of Accountant Online and Seamus McMenamin of Mantis Cranes will all share their experiences and they are among many local businesses in the spotlight over the week.
"We have found over the years that the best way to do that is, not only to bring in a host of experienced keynote speakers, but also to include stories from businesses here who can share their experience. Our opening event is a perfect example of that," Head of Enterprise in Donegal, Michael Tunney said.
"Whether your business is in the start-up phase or you want to move in a new direction to grow and expand, there is something among the week's programme to suit everyone and I would urge businesses to explore the programme and make the best of these great opportunities," the Head of Enterprise concluded.
To book for any of the events, log on to www.localenterprise.ie or phone 074 91 60735.