Derry to host Cross Border Job Fair

24.05.18
A MAJOR Cross Border Job Fair will take place in the City Hotel, Derry on Wednesday, 19th June, 2019 between 1pm and 7pm.
Admission is free and more than 50 employers will take part with representatives from across many different sectors including the IT, manufacturing, hospitality, care and retail sectors. These employers will be on hand to answer questions and discuss training and employment opportunities with anyone interested.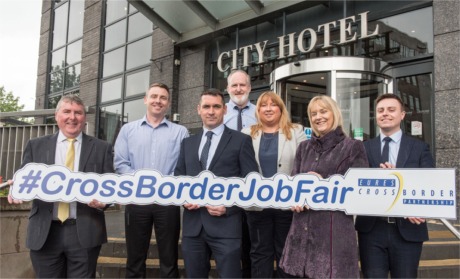 At the launch of the Cross Border Job Fair which takes place in the City Hotel, Derry on Wednesday 19th June 2019. Pictured (from left to right) are Declan Doherty DEASP, Robert O'Donnell WHSCT, Joe Lavery EURES, Patrick Maguire DfC, Sonia Gormley WHSCT, Eileen McGrinder DCSDC and Stephen McGlew DfC.
Eileen McGrinder, Skills Project Officer at Derry City and Strabane District Council said: "The fair will offer jobseekers an invaluable opportunity to meet with prospective employers from across Derry, Strabane and Donegal to discuss and apply for actual jobs which are currently available and ready to be filled."
Joe Lavery, EURES Cross Border Partnership Ireland, N Ireland Coordinator added: "This year's job fair will showcase a range of employers and vacancies in the North West cross border area and give jobseekers as well as job changers from both jurisdictions the opportunity to seize local, worthwhile opportunities. We're therefore looking forward to a very successful event."
Inviting jobseekers from throughout the North West to attend this year's event, Declan Doherty from the Department of Employment Affairs and Social Protection (DEASP) concluded:
"The Job Fair has something for everyone and I'd therefore encourage anyone, whether in work, unemployed or simply assessing education and training options, to explore the wide-ranging opportunities available on the day.
"Indeed, if you're in the market for a new career or simply looking for the first step on the ladder, this really is an unmissable event and the place that you need to be."
Further information about the Cross Border Job Fair in Derry is available by contacting Eileen McGrinder or Nicky Gilleece, Skills Project Officers at Derry City and Strabane District Council on 028 71 253253.