An Grianán Theatre wins IMRO award

28.02.19
ON Tuesday, 26th February, Paddy McKenna hosted the highly anticipated IMRO Live Music Venue of the Year Awards at the Irish Music Rights Organisation headquarters in Dublin.
The Ulster Live Music Venue of The Year 2018 went to Donegal's An Grianán Theatre, who have been nominated for this award every year since it began in 2008, reflecting the theatre's long commitment to artistic excellence. The award was accepted, on the venue's behalf, by Lorna McLaughlin of The Henry Girls.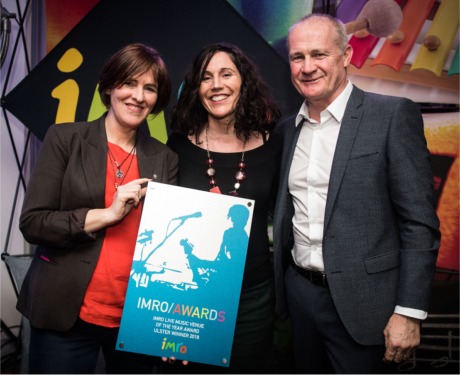 Lorna McLaughlin of The Henry Girls accepts the IMRO Ulster Live Music Venue of The Year Award 2018 on behalf of An Grianán Theatre.
Of the annual awards voted by over 12,500 IMRO members Victor Finn, IMRO Chief Executive said "We're privileged in Ireland to have such a vibrant and eclectic live music scene, which is the backbone of the music industry as a whole. We feel it is vital to acknowledge the venues and festivals who support live music from a musician's first performance right through to internationally known headline artists on main stages. It is these venues and festivals across the country that allow music creators to continue making music and bring it to new audiences."
Hot Press Editor, Niall Stokes added: "This is a hugely optimistic moment for Irish music. There is an extraordinary talent pool here. A growing number of artists and bands are releasing music of real heft. And as a result Irish artists are achieving significant successes beyond these shores in greater numbers than ever before. But it is still extremely difficult for musicians to earn a living. Which is why a vibrant live music scene is so important."