Horslips roll back the years in Culdaff
07.08.19
Celtic rock pioneers Horslips roll back the years in McGrory's Back Room

by Shaun McLaughlin

"Horslips (cha cha cha), Horslips (cha, cha cha)"
So chanted a wildly enthusiastic crowd punching the air between songs in a set filled to the brim with classic tunes that sounded as fresh and vibrant tonight as when they were first released over forty years ago.
Original band members Barry Devlin, Johnny Fean and Jim Lockhart joined by stand in drummer and long-time fan Myles Lally, delivered a night of outstanding musicianship that will, like their original gigs in the local Culdaff Arms back in the 1970's, go down in local musical folklore. This was no cobbled together nostalgia trip to feed outdated egos but rather it was the sound of an original band playing fantastic songs that reminded us all of the absolute life affirming power of music when it's played live with maximum heart and soul.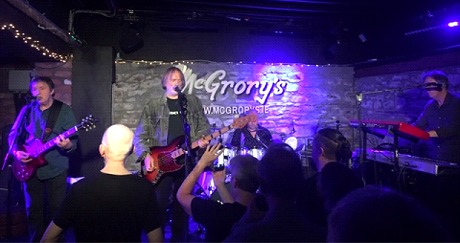 Original members of Horslips Johnny Fean, Barry Devlin and Jim Lockhart on stage with drummer Myles Lally.
Armed with a cherry red vintage Gibson Les Paul played through a small Boss Amplifier (set up on a Beer Crate!) Johnny Fean's guitar playing throughout was an absolute master class of rhythm and lead that at times, particularly during the extended lead solos, reminded me that this man has a firm place at the top table of greatest Irish electric guitar heroes beside his, sadly departed, friends Rory Gallagher and Gary Moore who no doubt were smiling down tonight as Johnny showed the young, and not so young, pretenders how it's really done.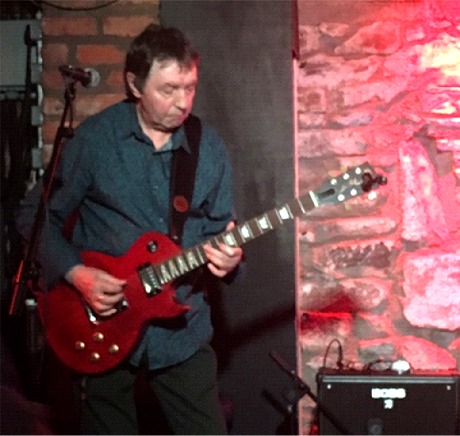 Johnny Fean, Horslips guitar maestro, on stage in McGrorys, Culdaff.
On keyboards, flute and tin whistle Jim Lockhart added a mystical air to the proceedings and kept the trad flag flying as he weaved old tune melodies in and around Fean's lead lines and on top of the bedrock fluency of Barry Devlin's bass guitar which itself was locked in tight to the expressive and nuanced drumming provided by Myles Lally.
A bearded and denim cladded Devlin acknowledged the absence of original Band members Eamonn Carr (drums) and Charles O'Connor (mandolin and fiddle) and also thanked a group of Derry fans who arranged an exhibition of Horslips memorabilia in the Orchard Gallery in 2004 which was attended by all five original members and sowed the seeds of various reunions over the years.
Tonight's show, the second of a two- night residency, was part of the Errigal Arts Festival programme which continues to go from strength to strength each year bringing much appreciated musical adventures and carnival colours to the Inishowen area.
Anthem after anthem including "Power and the Glory", "Fantasia", "Furniture", "Sideways to the Sun", "Warm Sweet Breath of Love", "The Man Who Built America", "Sword of Light" and "Dearg Doom" followed one after the other until the set closed with a blistering cover of Johnny and the Pirates 'Shakin all Over' and by that time that's exactly what the crowd of young and old rockers were doing until the last notes faded and the chanting and air punching began all over again "Horslips (cha cha cha), Horslips (cha, cha cha)".
The Plough indeed was well and truly sped!