Inishowen clubs invited to enter Good Causes Awards

27.02.19
COMMUNITY organisations, sports clubs and projects from Inishowen who benefited from National Lottery Good Causes funding are now invited to apply for the Good Causes Awards 2019. This awards initiative, which was launched by Irish Olympian hurdler Thomas Barr, honours the inspiring work and achievements of thousands of projects, clubs and individuals all over Ireland
Speaking at the awards launch at the University of Limerick sports grounds, Thomas said: ""As someone who has benefited hugely from National Lottery Good Causes funding in my career, I am delighted to be associated with these important awards. I can see the impact of National Lottery funding all over the country and its role in supporting athletes preparing for major competitions including the Olympics."
The Good Causes Awards is now in its second year and is open to organisations making an incredible difference in their communities with the help of National Lottery Good Causes funding. The televised awards carry a prize fund of €95,000.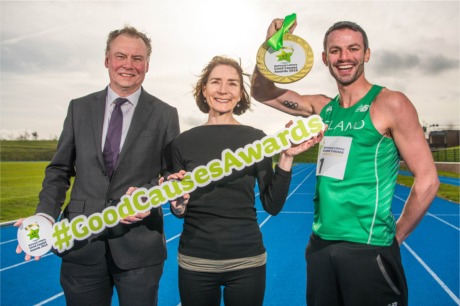 Pictured at the University of Limerick for the launch of the National Lottery Good Causes Awards 2019 are Olympic hurdler Thomas Barr, Theresa Kavanagh of the Children's Grief Centre (which was awarded Overall Good Cause winner in 2018), and National Lottery CEO Dermot Griffin.
National Lottery CEO, Dermot Griffin, said it is fitting that the profound impact of Good Causes funding on villages, parishes, towns and cities all over Ireland, is recognised.
"The National Lottery is used to celebrating winners. However we have thousands of winners, unsung heroes, who work quietly under the radar to make positive change in their communities and these awards reflect that dedication and commitment."
He added: "This is work that often goes unrecognised and we are encouraging Good Causes beneficiaries to enter these awards to give them the opportunity to have their hard work honoured."
Individuals, community projects and organisations in Inishowen which received Good Causes funding in the years 2016 and 2017 are eligible to apply. Applications for the awards are now open and people can enter and check eligibility at www.lottery.ie/goodcausesawards .