Graeme McDowell: "Growing up, I couldn't afford to play Royal Portrush"
17.07.19
GRAEME McDowell has revealed that he couldn't afford to play golf at Royal Portrush as a young man growing up in the Co Antrim seaside town.
As he returns to his hometown to compete in The Open Championship later this week, McDowell recalled how his family were instead members of nearby Rathmore Golf Club.
"When I think back all those years ago when I was taking up the game with my brothers and my dad, we were members of Rathmore Golf Club, which is built upon land owned by Royal Portrush," he said
"There's no point beating around the bush here: as a family, we simply couldn't afford to be members of Portrush. In fact, if we had lived in a part of the world where golf was more expensive, I would never have played the game."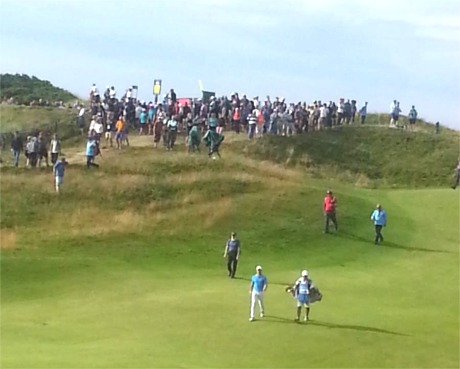 Crowds were out in the sunshine yesterday, Tuesday 16 July, following the practice rounds at The Open in Royal Portrush.
In a blog for the European Tour, he added: "It's that simple. Thankfully, places like Britain and Ireland treat golf as a game of the people for the most part so my dad got into the game in his 30s and just instantly got the bug and was able to introduce the game to his kids."
McDowell, who turns 40 later this month, would have to wait until he was 16 and "one of the stand-out juniors" to join a Royal Portrush golfing team.
Meanwhile, he joked that he "will not be the hardest-working McDowell" at the hallowed links course this week.
His younger brother Gary has been part of Royal Portrush's green-keeping staff for more than 20 years.
"The level of preparation that has been done on the golf course is unbelievable, and Gary is so proud to be a part of the team led by Graeme Beatt who are working tirelessly to showcase one of the best links courses on the planet in perfect conditions," the golfer added.