Loganair's new London Stansted service takes flight

27.02.19
LOGANAIR'S new service between City of Derry Airport and London Stansted commenced operations on Wednesday, 27th February 2019. Passengers departing on the inaugural flight were treated to light refreshments and entertainment.
The Managing Director of Loganair, Jonathan Hinkles, welcomed passengers on board their flight, which departed from City of Derry Airport at 07:05am. Mr Hinkles stated, "We are very pleased to be able to continue the vital airlink between Derry and London Stansted. Bookings have been extremely positive which only re-enforces how important this route is to the region. We look forward to building on a successful start with the new Derry to Manchester schedule starting the 24th May. Both Stansted and Manchester will operate on our Embraer 145 jet aircraft, and with our existing Glasgow service brings the total routes served by Loganair from City of Derry Airport to three."
Regional & City Airport's Contracts Director, Clive Coleman, outlined that the double daily service enables travellers within the local area to depart Derry early morning and return the same evening as well as acting as a catalyst for in-bound tourism to the region. Clive said, "We are absolutely thrilled to have Loganair commence operations of our London Stansted public obligation service. This is great news for the airport and the wider North West region. A direct air link with a London airport is imperative for this region and our business community."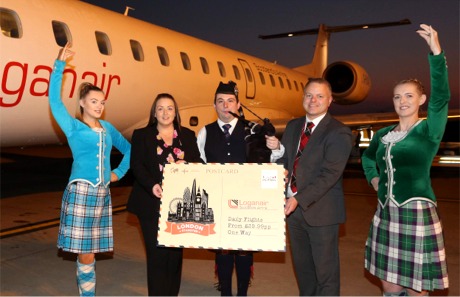 Loganair's new service between City of Derry Airport and London Stansted commenced operations on Wednesday, 27th February 2019.
The route runs twice daily on a 49-seater jet aircraft with an early morning departure each day that is particularly suited to business travellers and commuters from the region to arrive in central London early in the morning and complete a full day's business before returning back on an early evening flight. Maintaining frequent, convenient and competitively priced air services to and from London is vitally important and this route is vital for the economic development of the North West region.
For more information on Loganair's new daily service from City of Derry Airport to London Stansted, visit www.cityofderryairport.com .