Inishowen businesses urged to "Dare to be amazing"
13.03.19
SMALL and medium enterprises in Inishowen have been called upon to turn their passion into action and 'Dare to be amazing.'
The call was made by Head of Enterprise in Donegal, Michael Tunney, at the end of Local Enterprise Week, who said that the backbone of the economy of the county is small and micro enterprises - but they don't get the importance they deserve.
"I'd say to our businesses – you need to have more confidence in yourselves – you need to tell your story, because if you don't, how will people know?"
The theme for the week was 'Peak Performance' and the Head of Enterprise urged Donegal businesses to be ambitious.
"Know what you want to achieve and then match that with the ambition. If you are going to have peak performance, then you need to have the ambition to perform at that level.
At the end of the day, you have to have some sort of goal – but you shouldn't set those goals too low and make them easy to achieve. Be ambitious, aim high," Mr. Tunney said.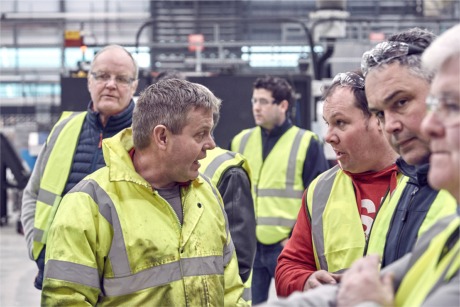 Visitors to Inishowen Engineering enjoying a tour as part of the 'Up close and personal' event organised as part of Local Enterprise Week.
His comments came as another busy Local Enterprise Week came to an end with 25 events at locations right across the county, thanks to support from other agencies and partners.
The Local Enterprise organised events included a number of high-profile speakers, but many local businesses also featured on the podium over the course of the week to share their stories.
"It was great as always, to have some excellent speakers come in to give brilliant advice, information and inspiration over the course of the week, but one of the highlights of the week certainly was the fact that we were able to include so many local businesses who could share success stories that hopefully will inspire other businesses to follow in their footsteps," the Head of Enterprise said.
"I'd also urge the businesses who attended and indeed those thinking of starting a business, to continue to engage with the Local Enterprise Office and we will do everything possible to help them," he concluded.
To contact the Local Enterprise Office in Donegal, log on to www.localenterprise.ie or phone 074 91 60735.