With a sarong in his heart…
25.03.19
DANIEL O'Donnell put the song in sarong when he visited a temple in Asia at the weekend.
The Donegal singer (57) channelled former footie ace David Beckham who donned a similar outfit in the pre-millennial 1990s and sent fans wild with excitement.
Daniel was visiting a temple in Myanmar along with wife Majella (58) as part of a holiday cruise following the country singer's latest tour of the southern hemisphere.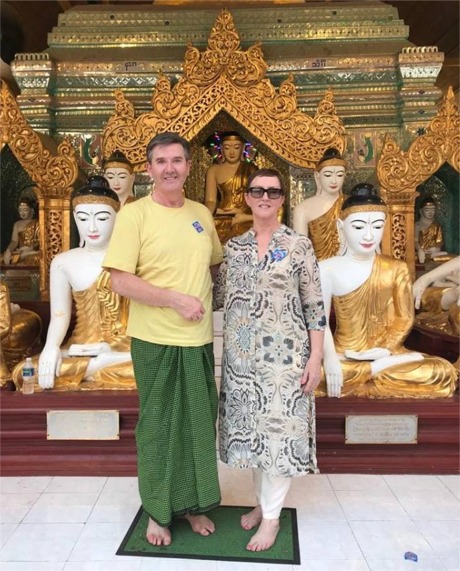 Skirting the issue: Daniel and Majella in Myanmar. (Photo, Daniel O'Donnell Facebook).
As is the custom, Daniel showed respect by modestly covering up his shorts to enter the Buddhist place of worship.
Majella, meanwhile, wore a long, patterned kaftan over white trousers.
The popular couple, whose USA road trip is currently airing on RTE, posted the photo as they sent greetings via Facebook.
Fans were delighted as they teased dapper Dan on his latest sartorial choice and commented on and shared the photo almost 1,000 times in a matter of hours.
"Daniel in a dress. What next, doing a David Beckham?" teased one.
"Majella is still wearing the trousers," added another.
"Don't know about the "skirt" Daniel but good to see you're sticking with the Donegal colours! joked another supporter.