Special award for Crana Knits owner
14.01.19
THE amazing contribution made by Buncrana business woman Rosaleen Hegarty to the local economy in Donegal, was recognised when the Crana Hand Knits owner was presented with a special "Spirit of Entrepreneurship" award at the Local Enterprise Awards ceremony in Letterkenny.
Introducing the award, the MC on the day Eileen Magnier, said the judges had decided when Rosaleen's entry to the competition came in, that she was deserving of a special award in recognition of the amazing contribution she has made for over thirty years.
Interviewed on stage by the RTE reporter, Rosaleen said that the success of Crana Knits was modernising one of the oldest traditions in Donegal - hand knitting.
"I registered Crana Hand Knits in 1979 and at its height I had 550 women knitting for me in Donegal and was supplying many of the big names," said Rosaleen, who explained that a loan from her father had helped her set up what she thought would be a small business.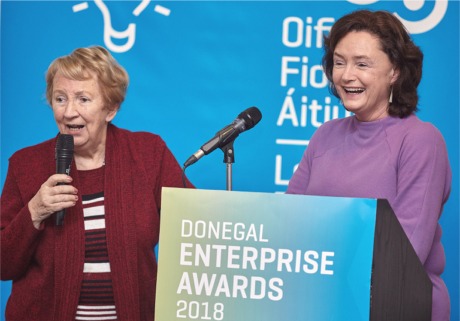 Rosaleen Hegarty of Crana Hand Knits on stage with Eileen Magnier at the Local Enterprise Awards in Letterkenny.
But her business grew and grew and at one stage she was supplying over 20 stores in America with knitwear from Crana Hand Knits.
The knitwear was in demand closer to home as well and in Ireland Rosaleen was supplying names including Blarney, House of Ireland and Carraig Dunn, while on the international fashion scene Rosaleen's garments were in huge demand from names like Tommy Hilfiger, Jonathan Anderson and many more.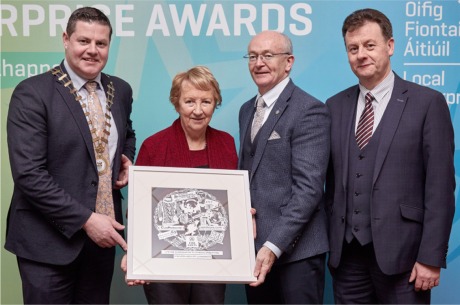 Rosaleen Hegarty of Crana Hand Knits receives her special 'Spirit of Entrepreneurship Award' at the Enterprise Awards ceremony in Letterkenny from Mayor Cllr. Seamus O'Domhnaill, Head of Enterprise in Donegal, Michael Tunney and Chief Executive of Donegal County Council, Seamus Neely.
Rosaleen wasn't the only award winner from Inishowen at the ceremony either, James Cuddihy saw his business, Welditz in Carndonagh, named as runner-up in a Best Established Business category that also saw Muff business Efficient Renewables in the running.
Speaking at the awards, Head of Enterprise in Donegal, Michael Tunney had congratulated all of the finalists and said they could all be proud of having come through a stringent process to get so far.
"Every business can look back to where they have been, but they should also be always looking ahead to where they want to go. Perhaps there is no better time to do that than now – as we come towards the end of one year and look towards the start of a new one.
With that in mind it is great to see we have so many businesses here in Donegal who are planning ahead to the future with confidence and the Local Enterprise Office will be delighted to help businesses planning for the future to reach their potential."
To view more photos from the Local Enterprise Awards click here .