Irish Coast Guard saves 20 lives over August Bank Holiday weekend
12.08.19
MORE than 20 lives were saved by the Irish Coast Guard over the recent "exceptionally busy" August Bank Holiday weekend.
The service responded to 90 incidents with a total of 112 people assisted on the sea, in rivers and lakes, and on land from August 2 – August 5.
The Irish Coast Guard said the rescue missions, co-ordinated by its centres in Malin Head, Dublin and Kerry, managed to save 20 people who were "in serious danger of losing their lives".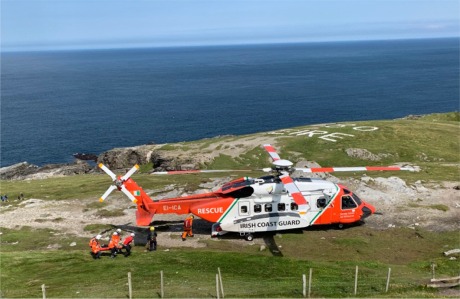 The Irish Coast Guard helicopter was called to a rescue at Malin Head on 02 August 2019.
The emergencies included one long-range medical evacuation from a vessel 170 miles off the south coast.
Other casualties included hill walkers and people who got into difficulty along the coast and on inland waterways.
The Coast Guard said it believed that had it not been for its interventions, 20 individuals had been in serious danger of losing their lives or faced prolonged hospitalisation last weekend.
Irish Coast Guard Search and Rescue Operations manager Derek Flanagan said:
"The advice of the Coast Guard is simple, stay afloat and stay in contact."
The service can be contacted on VHF channel 16 or by dialling 999 or 112 and asking for the Coast Guard.