Moya Brennan performs with Ceol le Chéile
01.08.19
DONEGAL'S intergenerational choir Ceol le Chéile took to the stage in An Grianan Theatre on Sunday night, July 28, with special guest Moya Brennan.
The sold out show which was hosted as part of the Errigal Arts Festival was officially opened by Leas Chathaoirleach Cllr Niamh Kennedy and showcased the choirs journey over the last year. They performed a whole new repertoire including songs from various musicals, traditional songs and 'With or Without You' by U2.
Special guest Moya Brennan joined the choir on stage for four songs, Na Buachailli Alainn, Harry's Game, Crann Ull and Teidher Abhaille Riu.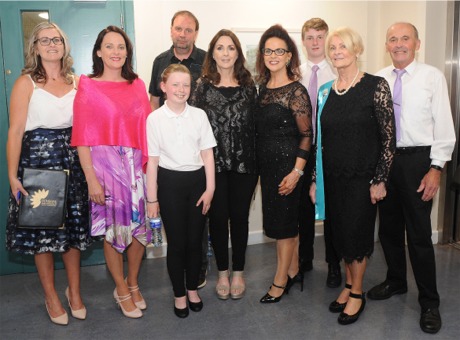 Leas Chathaoirleach Cllr. Niamh Kennedy with Moya Brennan and members of the Ceol le Cheile Intergenerational Choir before their performance in An Grianan Theatre on Sunday night as part of the Earagail Arts Festival. Picture also included Choral Director Veronica McCarron and Donegal County Council's Mairead Cranley and Charles Sweeney.
Ceol le Chéile is an intergenerational choir made up of older people, children and young people, male and female from all walks of life in Donegal. This choir of ages was a project established by Donegal County Council as part of the Donegal Age Friendly Programme with the aim of promoting social inclusion and developing stronger relationships between older people, children and young people.
The night concluded with a standing ovation following a stunning rendition of a "Time to Say Goodbye".