Carndonagh Motor Company heritage event
20.11.19
DO you have memories of the Carndonagh Motor Company? The Men's Shed Carn are hosting an event this Friday evening, November 22nd, at 7pm in their premises at the Old Co-op, Moville Road, Carndonagh to commemorate the Carndonagh Motor company.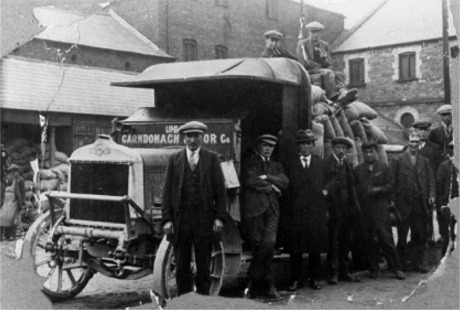 Patrick Mc Caroll from the Men's Shed Carn who is helping organise this event said:
"This event is an excellent opportunity for anyone who worked at Carndonagh Motor Company themselves or those who have relatives or friends who worked there, to come along and meet others, remember fondly and hear stories about this once booming business.
"It is hoped that there will be a number of cars and tractors from the era on display as well as a record of car sales, photos, brochures, flyers and we hope - a lot of story telling.
"We are also asking anyone who has any records or memorabilia to come along and share these with those in attendance. Relatives of the original owners will also be there on the night.
"Please come along - young and old and find out more about Carndonagh Motor Company at this special event."
To view more photos of Carndonagh Motor Company staff, customers and vehicles visit www.carndonaghheritage.com .