Irish starlings meet migrants for 'mesmerising' murmurations
05.11.19
IRELAND is among only a few countries in north western Europe where starling numbers are thriving, according to the latest annual Garden Bird Survey.
The small birds, famed for their spectacular air displays known as a 'murmurations', appeared in almost 80 per cent of Irish gardens last winter.
This marked a return to the Top 10 for the fascinating aerobatic bird with its speckled and iridescent plumage.
Top of the league was the red-breasted robin for the ninth year running, closely followed by the blackbird and blue tit.
The popular trio were recorded in over 96 per cent of Irish gardens.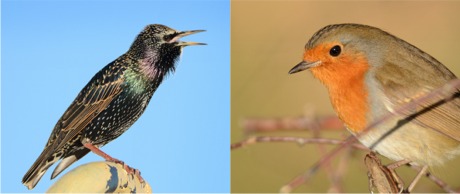 BirdWatch Ireland Garden Bird Survey 2018/2019 - The Robin was number one in the top 10 garden birds and the Starling was 10th. Photo B Burke.
The BirdWatch Ireland Garden Bird Survey 2018/2019 reveals that many common birds appeared in lower proportions in domestic gardens last year.
This was due to the milder conditions compared to the previous winter and meant birds were better able to source their food in the wild.
BirdWatch Ireland Garden Bird Survey co-ordinator Brian Burke said a record 1,600 households took part in the latest survey.
This represented the highest number of participants in the survey's history and coincided with its 30th anniversary.
A notable returnee to the Top 10 was the starling, at tenth place and its best ranking in eight years.
"It would be easy to take starlings for granted but Ireland is one of the few countries in north-west Europe where their numbers are doing well," said Mr Burke.
"Each winter evening your garden starlings join up with hundreds and thousands of starlings from tens of kilometres around and head to a local roost, often a reedbed or woodland, where they perform the mesmerising 'murmurations' that they are famous for," said Mr Burke.
Meanwhile, BirdWatch Ireland public relations officer Niall Hatch said the starling murmurations witnessed in Ireland also included migrant starlings from other countries.
"As far as we know, the starlings that actually breed in Ireland during the summer tend to stay here, but in the Autumn they are joined by an influx of starlings that migrate here from northern Europe, and specially from the Baltic Sea region, for the winter," he said.
Among the reasons for Ireland's strong starling numbers, are its pasture-dominated landscape and relatively damp summers.
This gives the birds good access to their favourite food source, the crane fly larvae or 'leatherjacket'.
If you would like to participate in the Garden Bird Survey 2019/2020, starting next month, please visit www.birdwatchireland.ie .

Top 10 garden birds 2018/2019
1. Robin
2. Blackbird
3. Blue tit
4. Chaffinch
5. Magpie
6. Great tit
7. House sparrow
8. Goldfinch
9. Coal tit
10. Starling