Local groups invited to apply for up to €5,000 grant

19.07.17
The Artist and Youth Work Residency Scheme will see local projects nationwide receive grants of up to €5,000. Local groups in every county are being encouraged to apply for funding under the Artist and Youth Work Residency Scheme 2017. Open to youth groups and artists, this grant helps those selected to work with a professional artist on a creative project within their local community.
It is managed by the National Youth Council of Ireland (NYCI) whose members work with over 380,000 young people each year and are funded by the Arts Council and the Department of Children and Youth Affairs (DCYA).
Anne O'Gorman of the NYCI said: "If you have an idea for working with young people in a creative way, and need funding to make it happen, we'd encourage you to consider this grant. Each year we are delighted with the calibre of local projects that apply."
The artist and youth work residency scheme is designed to promote innovative partnerships between youth groups, artists and arts organisations. Residencies can take the form of an artist in residence in a youth work setting or a youth group in residence in an arts setting.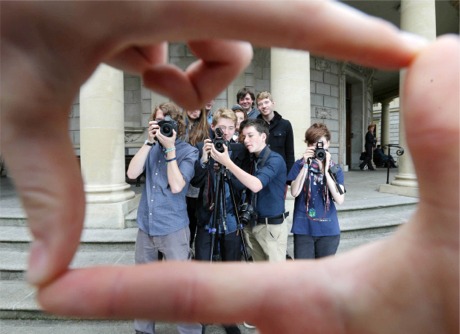 Members of the Young Irish Film Makers which is a national organisation providing workshops all over Ireland in film making and digital media performing.
According to the NYCI, the demand for funds from this scheme ran at almost three times the available fund last year demonstrating a strong need for more funding for young people's participation in the arts. The National Youth Arts Programme runs a range of other activities to promote and develop youth arts in Ireland. Visit www.youtharts.ie for more information or to download an application form.
Last year's award recipients included Letterkenny Youth and Family Service and artist Paul Bonar with a documentary filmmaking workshop scheme for young people with learning/intellectual disabilities.