Seamus Coleman awarded Freedom of Donegal
06.06.17
DONEGAL sporting hero Seamus Coleman has been honoured with the freedom of the county at a civic reception in Lifford.
Cathaoirleach Terence Slowey paid warm tribute to the Republic of Ireland captain and Everton full-back, who was accompanied to Friday's event by his wife Rachel, baby daughter Lily; parents Maire and Henry and brothers Stevie and Francis. "Seamus Coleman is well known not only here in Donegal and in Ireland but throughout the UK and across the globe for his skills as a world class footballer.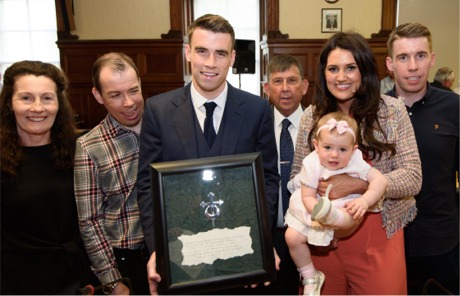 Seamus Coleman was awarded the Freedom of Donegal at a civic reception in Lifford on Friday, 2nd June, 2017.
"But here in Donegal, that is not all he is known for," said Cllr Slowey.
"He is known for his love of Killybegs and for his love of Donegal. He is known as the boy who has made good but has never forgotten his roots and he is known for his love of Gaelic football and for his lifelong support for his local GAA team Na Cealla Beaga."
Coleman started his footballing career with St Catherine's in Killybegs, joining League of Ireland side Sligo Rovers in 2006 and then moving to England to sign for Everton in January 2009.
He has made more than 200 appearances for Everton and is regarded as one of the Premier League's top full-backs.
He has been a senior international for the Republic of Ireland since 2011 and has had 40 caps to date.
He won the 2011 Nations Cup and was awarded the FAI Under-21 International Player of the Year in both 2009 and 2010.
He was selected for the Ireland squad at UEFA Euro 2016, captaining Ireland against both Italy and France and in September 2016 he was named as Ireland's permanent captain following the retirement from international duty of Robbie Keane.
An emotional Seamus Coleman told the gathering at the County House, that he was shocked to receive the honour and that the award would take pride of place in his home.
He also talked about his pride in being from Killybegs and Donegal adding that his heart would always lie here.
He thanked his parents for their support and told the audience he was taught from a very early age to always say 'thank you' and it was something he had carried with him throughout his life.
The father-of-one also spoke about the horrific leg-break he suffered in the World Cup Qualifier against Wales in March. A council spokesperson said the sportsman left guests at the reception in no doubt he is "still hungry" to get back to top-flight soccer action.
The talented player concluded his remarks by paying tribute to his wife Rachel, thanking her for her endless support and commitment.
Coleman became only the eighth recipient of a specially-commissioned badge and pin exclusively made for those on whom the Freedom of the County is conferred. To view more photos click here .