Rosato's in Moville named Best Gastro Pub
27.03.17
ROSATO'S bar and restaurant in Moville is celebrating after being named 'Best Gastro Pub' in Donegal.
The popular venue took the prestigious title at the ninth annual Irish Restaurants Awards 2017.
Rosato's which is a favourite with locals and visitors alike, was up against many top venues competing in the regional finals for the Ulster area.
The local pub-restaurant is known and widely appreciated for its delicious food, cosy atmosphere, open fires, friendly staff and consistently high standards.
Always on the menu are delicious seasonal dishes, traditional Irish favourites, fresh fish, pasta, steak, curries and Rosato's renowned pizza.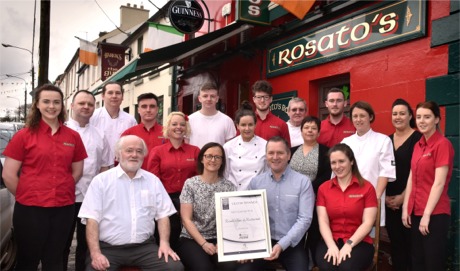 Rosato's proprietors Eddie and Margaret Harkin celebrate being named Best Gastro Pub in Co Donegal along with some of the Moville bar's 29 staff.
The Moville gastro pub offers a wide selection of drinks for every taste while quiz nights and music events are also regular features.
Rosato's, owned by husband and wife Eddie and Margaret Harkin, is also a strong employer in the area with 29 full and part-time staff.
Eddie praised the pub's hardworking staff saying such an award would be impossible without them.
"We're over the moon. This award means so much to us. We're here 12 years now and this was one of the awards we really wanted. It's brilliant to finally win it and get the recognition," he said.
"You can't do something like this on your your own. It's pure team work and we're all working excellently together and making it happen."
Meanwhile, Irish Restaurants Association chief executive Adrian Cummins added: "Our small island boasts everything from fine dining to high quality gastro pubs, from the exotic taste explosions of world cuisine to the comfort of traditional dishes.
Framed to perfection: Rosato's named 'Best Gastro Pub' in the Irish Restaurants Association Awards 2017.
"We have an appreciation for what we eat, for the journey of our food from farm to fork, and for the dedication of those working in the food industry to serve up Ireland's finest food."