Donegal defendants give €11K to Court Poor Box
21.08.17
PEOPLE in Donegal who faced a judge for minor offences paid some €11,500 into the Court Poor Box to avoid stiffer penalties last year, new figures reveal.
The data shows that defendants nationwide contributed a total of €1,533,610 to hundreds of charities to avoid convictions and fines for what are usually first-time and minor offences including drunk and disorderly behaviour, breaches of the peace, ignoring garda directions or minor road traffic breaches.
The latest statistics from the Courts Service also show that among the biggest contributors to poor box coffers were defendants in Co Kerry whose donations represented about a quarter of last year's overall total.
A total of 27 charities in Donegal received donations from the Court Poor Box.
The biggest beneficiary was The Donegal Hospice with €1,460. This was followed by the St Vincent De Paul Society in Ballyshannon which got €1,100 followed by the SVP Donegal Town conference (€1,000). Other Donegal charities received smaller amounts ranging from €100 to €900.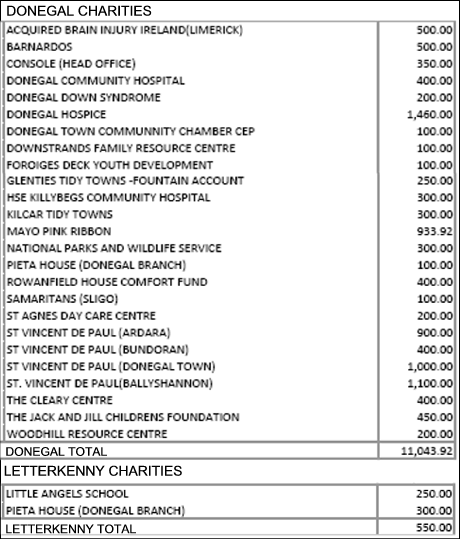 Meanwhile, among the biggest recipients of the court charity funds nationally in 2016 was the St Vincent De Paul Society with many of its conferences countrywide receiving individual sums ranging from €100 to €3,000. The Capuchin Day Centre in Dublin was also among the highest of the recipients, getting €57,785.
Other charities receiving substantial five-figure sums included Christian Blind Mission (€53,000); Sightsavers International (€53,000); Ethiopia Aid (€37,500); the Garda Benevolent Trust Fund (€28,900) and Dublin Simon Community (€25,325).
Cork Penny Dinners received €21,350 while the Irish Red Cross got €14,100.
Among the recipients of smaller individual donations, sometimes nominated by the defendant, were a number of local hospices, mens' sheds; domestic violence groups, tidy towns branches, youth groups and autism services.
Broken down by court district, the figures show that defendants in Tralee, Co Kerry again contributed the most by far at just over €394,000. Donations from defendants before the Criminal Courts of Justice in Dublin amounted to almost €166,000 while Cork's total came to almost €107,000 with defendants in Dun Laoghaire paying just over €32,500.
A Courts Service spokesman said the Court Poor Box is an historic practice that allows judges to exercise discretion when imposing a penalty.
"There are many reasons and instances why the Court Poor Box is used by judges. "The accused may never previously have been before the courts, the accused may have pleaded guilty, a conviction might be inappropriate or might adversely affect employment, career or working abroad prospects, and/or the offence may be of a minor or trivial nature," he said.
"When combined with the Probation of Offenders Act it provides an option where some financial penalty is considered merited but a conviction and fine are not," the spokesman added.