36% NCT pass rate for ten year old cars
28.07.17
THE average NCT pass rate for ten-year old cars was just 36% in the past six years - half the rate for four-year old models, new figures show.
The statistics show that Irish motorists driving ten-year old models and older have slightly over a one-in-three chance of passing the NCT first time.
This is compared to an average of 76% for four-year old cars undergoing the roadworthiness test.
A league table from NCT operator Applus breaks down the pass rates for cars by year of registration, since 2011.
The table contains a glimmer of hope for beleaguered drivers, with subsequently big jumps in the re-test pass rates for both older and younger models.
When ten year old cars and older were put through the re-test after an initial fail, the pass rate jumped to an average of almost 88%.
Similarly, when four-year old cars were re-tested, the pass rate rose to 96.5%.
The main failure items for cars in 2016 were faulty tyres; front suspension; brake line and hoses; headlamp aim and stop lights.
The main failure items for cars in 2011 were faulty front suspension; headlamp aim; tyre condition; brake line and hoses and wheels.
According to the Automobile Association many Irish drivers continue to use the NCT test as a diagnostic tool to see what needs fixing in order to get a pass on the re-test.
Meanwhile, NCT figures for the first half of the year, show that 760,032 vehicles were tested from January to June 2017.
This was a drop of almost 62,000 tests compared to the same period last year, a trend reflecting the rise in people buying new cars since the recovery.
The half-year results show that 3,015 cars were grounded at test centres after being deemed unfit for the road.
The Society of the Irish Motor Industry expects there to be 132,000 new car sales by the end of this year.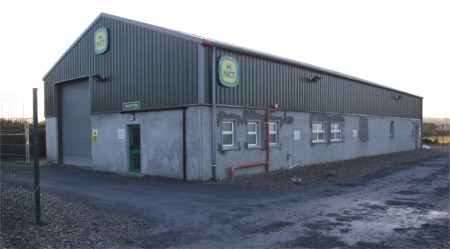 The NCT centre in Carndonagh.
Category of cars tested in 2016 were 2012 reg., 2010; 2008; 2006 and older.

2012 Vehicles: First time Pass Rate is 83% and Re-test Pass Rate is 97%.
2009 Vehicles: First time Pass Rate is 65% and Re-test Pass Rate is 95%.
2007 Vehicles: First time Pass Rate is 54% and Re-test Pass Rate is 93%.
2005 and older: First time Pass Rate is 37% and Re-test Pass Rate is 89%.

The main failure items in 2016 were:
1 Tyres
2 Front Suspension
3 Brake Line / Hoses
4 Headlamp Aim
5 Stop Lamps