Majella to share breast cancer story
23.10.17
MAJELLA O'Donnell will share details of her breast cancer journey when she hosts a special event later this week.
McElhinney's of Ballybofey have invited people to their lingerie department as part of Breast Cancer Awareness month, to hear Majella's story of survival including her double mastectomy and the challenges facing patients diagnosed with the disease.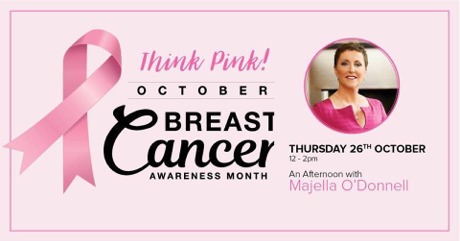 Attendees will also get to hear from experts who work in the area of post-surgery prosthesis and bra-fitting.
Mother-of-two and grand-mother Majella (57) received the shock diagnosis of breast cancer in the summer of 2013.
She raised some €600K for the Irish Cancer Society after having her head shaved live on RTE's Late, Late Show in September that year, at the start of her chemotherapy treatment.
The Tipperary-native underwent a double mastectomy and reconstruction surgery five months later and was delighted to receive the all-clear from the disease later in 2014.
Majella has previously campaigned for the strengthening of services at the specialist Breast Cancer North West clinic at Letterkenny University Hospital and recently spoke of her fear of the disease returning.
'An Afternoon with Majella O'Donnell' including refreshments will take place at McElhinney's, Ballybofey, on Thursday, October 26, 2017 from 12pm – 2pm.