Inishowen man among top Irish dairy farmers
05.10.17
AN Inishowen man has been named among the country's top dairy farmers.
Sean Lynch, Glencrow, Moville, has been announced as a national finalist in the Quality Milk Awards nominated by Aurivo.
The local farm has been producing top-class milk for just over fifty years.
Sean's father started milk production in 1966. Sean now looks after the family farm with his wife Marie while their son John plans to take over the operation in the future.
Sean also has three daughters Gemma, Ellen and Catherine. Son John currently works full time, but dedicates time to help out on the farm in the evenings and at the weekend.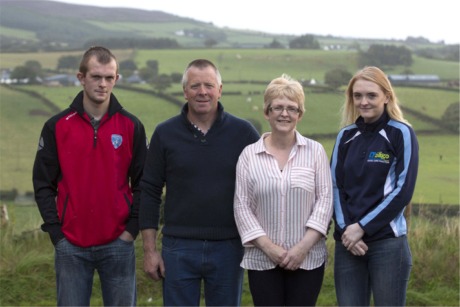 Cream of the crop: The Lynch family (John, Sean, Moire and Ellen) who run a top-quality dairy farm at Glencrow, Moville.
The family won the Aurivo supplier award with lowest TBC manufacturing in 2016. Their motto is "You can't get clean milk from dirty cows"
Meanwhile, the top prize was awarded to John and Maria Walsh of Cahir, Co Tipperary.
The winners and finalists were announced in Dublin yesterday following a "serious short-listing process" from the three judges, Professor Pat Wall from UCD, Dr David Gleeson (Teagasc) and Dr Jack Kennedy (Irish Farmers Journal.
Minister for Agriculture Michael Creed said: "Irish farming is more than just a business, it is a way of life. Irish farmers learn their craft from their parents and grandparents before them. It is no accident that Irish dairy products are regarded as the best in the world.
"Irish farmers and their family's commitment to delivering world class quality milk, day in day out, coupled with our grass based farming systems has enabled us to build successful markets for dairy products around the world," the minister added.