Courts Service on target with new Letterkenny courthouse
29.05.17
SEVEN state-of-the-art courthouses are on target to open in towns and cities around the country including Letterkenny this year, the Courts Service has confirmed.
The €135m project comprises the construction of three brand new landmark buildings as well as four major revamps of existing buildings.
When finished, the courthouses will deliver a total of 31 court rooms and an additional 36,000m˛ of court space including secure facilities for prisoners in custody.
The first of the courthouses, an ultra-modern building in Drogheda, Co Louth, is expected to open next month.
The six other buildings, located in Letterkenny, Cork, Limerick, Waterford, Mullingar and Wexford, will be completed in the final quarter of this year.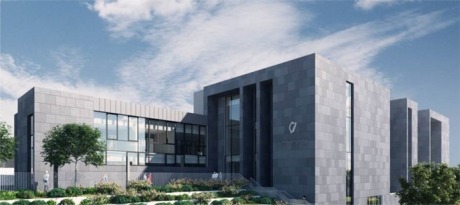 The new Letterkenny courthouse.
It is the single largest capital project ever undertaken by the Courts Service and is being delivered through a public private partnership.
BAM Ireland won the building contract in 2015 which also includes the maintenance of the buildings for 25 years.
Alongside Drogheda, the two other new-builds are in Letterkenny and Limerick while Cork, Waterford and Mullingar will see major facelifts at existing, historic courthouses. Wexford, meanwhile, will see its new court facilities housed in the refurbished 19th century Tate School building.
Details of the projects are outlined in the latest edition of the Courts Service newsletter.
The organisation said the buildings are being constructed "to a very high standard with enhanced facilities for all court users".
"Modern legal practitioners' suites and improved consultation facilities are included and all locations will have secure consultation rooms for consulting with clients in custody," it stated. The Courts Service said the enhanced facilities would allow for "a greater range of sittings to held at the various locations, including custody cases that previously could not be held at some venues due to inadequate facilities or security concerns".