Donegal house prices amongst cheapest in Ireland
26.09.17
DONEGAL remains one the cheapest counties in Ireland to purchase a home, despite a 5.6% rise in the price of the average three-bed semi in the last quarter, according to a national survey carried out by Real Estate Alliance.
The REA Average House Price Survey concentrates on the actual sale price of Ireland's typical stock home, the three-bed semi, giving an up-to-date picture of the property market in towns and cities countrywide to the close of last week.
Despite the absence of sterling buyers because of Brexit and the exchange rate, prices in some parts of county Donegal have risen by an average of €6,250 since June, fuelled by an acute lack of supply of suitable properties.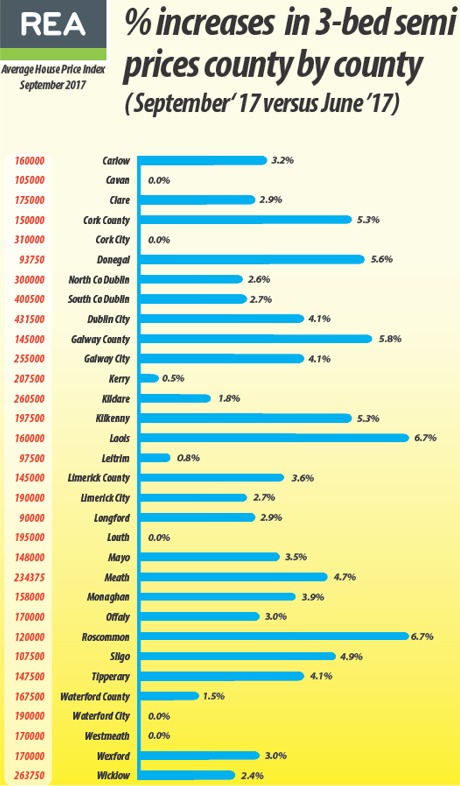 This lack of supply has seen prices in Bundoran rise by €10,000 or 11% in the last quarter.
However, Donegal (€93,750) is still among the only three counties, Longford (€90,000) and Leitrim (€97,000), where properties can be still be purchased for a five-figure sum.
"Brexit and the resulting exchange rate has reduced the number of sales to sterling-based clients. What is more, we see this situation continuing for the foreseeable future," said Michael McElhinney from REA McElhinney in Bundoran.
In Milford, there is good demand for three-bad family home, but the lack of supply is still an issue, according to Paul McElhinney from REA McElhinney in the town.
The average semi-detached house nationally now costs €221,843, the Q3 REA Average House Price Survey has found – a rise of 3.1% on the Q2 figure of €215,269.
Overall, the average house price across the country has risen by 11.2% over the past 12 months – just under twice the 6% increase registered to the full year to September 2016.
The average three-bed semi-detached home in Dublin city has jumped in value by €17,000 in the three months to the end of September, and now costs €431,500.
The 4.1% rise over the last quarter means that prices in the capital's postcode areas have increased by 15.6% over the past year, with properties selling in an average of four weeks after hitting the market.
"Supply is the main driver of these continuing price rises with our agents reporting that the volume of listings is down around the country," said REA spokesperson Healy Hynes.