Golfer G-Mac wants to bag Scot's Twitter name
09.03.17
GOLFER Graeme McDowell has made a surprise offer to snap up the coveted @gmac Twitter name from a Scot with just 86 followers.
The Major-winning sports star (37) who has 750,000 Twitter followers, approached @gmac (aka Graeme Maclachlan) from Glasgow this week looking to bag his namesake account.
"@gmac, would love to talk re grabbing this handle from you. Any interest?" the Irish golfer tweeted the Scotsman.
It's unclear whether the Glaswegian has even seen the millionaire golferís offer as he hasnít updated his Twitter account since December.
But heís held the account since 2007 and he follows 358 people including artists, cartoonists and a site celebrating Celtic FCís goals. Golfer GMac joined Twitter two years later and has the current handle @Graeme_McDowell.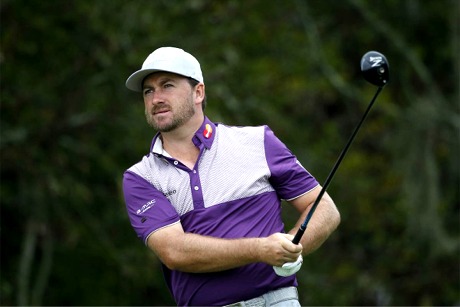 Portrush-born golfer Graeme McDowell who's on the hunt for a new Twitter name.
Photo: graememcdowell.com
Meanwhile, there's been no shortage of advice from other social media users with one suggesting Maclachlan should demand "about 50K" to make the deal.
Other Twitter users with variations on the same moniker, quipped about getting in on the act.
One Gary McNally (aka @GMac54) with 191 followers, joked with a winking emoticon: "Mine's for sale at half the price G".
And another Graeme MacLachlan (aka @geemac8) with 171 followers, told the golfer to "Join the club".
Another wit urged the sportsman to go the Donald Trump route and sign up for an account called @therealGMac
Others urged him to read up on the recent 'Kylie' trademark battle between Australian singer Kylie Minogue and US reality star Kylie Jenner.
Meanwhile, in response to suggestions that the Scottish @gmac should start the bidding with him at "about 50K", the top golfer cheekily asked whether this meant 50K in Japanese Yen (the equivalent of 415 euro).
McDowell has been affectionately dubbed GMac on the golf circuit for many years. He uses the brand on his golf clothing range G-Mac Apparel and his charity, The G-Mac Foundation, through which he has raised more than 3.3 million euro for sick Irish children in the past six years.