DONEGAL County Council executive architectural technician Siobhan McCafferty has scooped first prize in the local authority's staff energy saving idea competition. Siobhan received her new iPad for her 'Switch Off Tuesday' idea. Her idea will see council staff "becoming more aware of how simple energy saving actions can result in greater energy savings for the organisation and reduce our overall carbon footprint". The competition was held as part of the council's Energy Awareness campaign launched last summer as part of its commitment to ISO 50001 accreditation obtained in November 2016.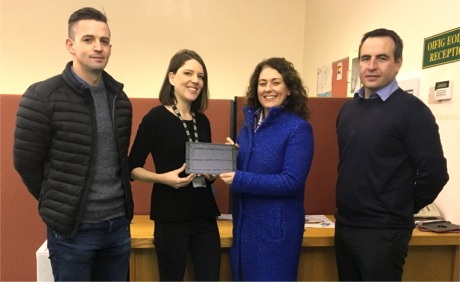 Siobhan McCafferty receives her prize of an iPad after winning top prize in the Donegal County Council staff energy saving idea competition. Pictured, from left: Kevin McHugh, energy management team; Siobhan; Anne Marie Conlon, energy management team and Donal Walker, energy management team.
Senior executive engineer Donal Walker said: "We have conducted energy assessments on a number of buildings and we are putting in mechanisms to monitor consumption and engaging our staff as part of the Energy Awareness Campaign is critical to our success."