Almost 13,000 unemployed in Donegal
16.06.17
THERE are almost 1,000 fewer people in employment in Donegal compared to six years ago, new figures show.
Census 2016 statistics show there were 71,182 persons in the labour force, a decrease of 964 on 2011.
The labour force participation rate in the county was 57.3%, compared to 61.4% for the State overall. The male participation rate was 63.4% while the female participation rate was 51.4%.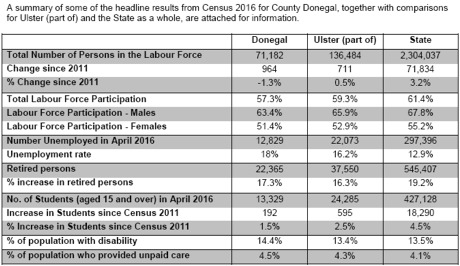 Meanwhile, there were 12,829 people registered as unemployed (18%) in the county. This compares to an unemployment rate of 12.9% (297,396 persons) for the State overall.
The number of retired people in Co Donegal stood at 22,365 in April 2016, an increase of 17.3%. Nationally, the number of pensioners increased by 19.2% to 545,407.
The number of students aged 15 years and over stood at 13,329, an increase of 1.5%. This was lower than the increase at national level (4.5%).
In Census 2016, some 14.4% of Donegalís population indicated that they had a disability, compared to 13.5% who did so nationally.
Some 4.5% of Donegal residents provided regular unpaid personal help for a friend or family member. This was higher than the percentage at national level (4.1%).
And 85.6% of Donegal residents stated that their health was either good or very good which was lower than the national figure of 87%.