Romantic Dan sings for bride
01.08.17
SINGER Daniel O'Donnell delighted a bride at the weekend by singing at her wedding in the same chapel he serenaded her newly-wed parents 38 years previously.
The romantic crooner (55) revealed he was delighted to sing at the happy wedding of Maria Doherty from Dungloe, Co Donegal, to her fiance Brendan Weldon.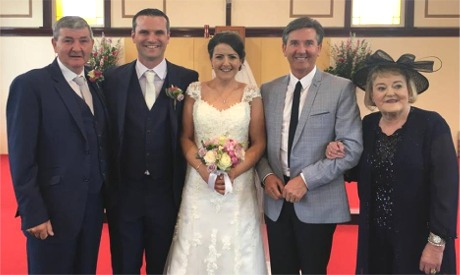 Daniel O'Donnell with the happy couple Maria Doherty and Brendan Weldon. Also in the photo are Maria's parents Kathleen Anne and Seamus.
He told how he sang at Maria's mum and dad's wedding in 1979 when he was the tender age of 17 and unaware of the meteoric singing career that was his to come.
"Today, I had the pleasure of singing in the church at the wedding of this lovely couple Maria and Brendan. 38 years ago I sang at Maria's parents Kathleen Anne and Seamus' wedding," Daniel told Facebook followers with a photo of the happy event.
As wedding singers go, it was a big coup for newly-married Brendan and Maria who had the sell-out country king all to themselves on their special day.
And dapper Daniel, who resumes his Irish tour on August 8, made sure he looked the part with a smart haircut, light plaid blue-grey jacket, dark trousers and slim black tie.
The kind wedding gesture went down a storm with the Kincasslagh performer's thousands of social media followers.
"You are a wonderful generous man (Daniel). Giving up your time to be at these weddings, even 38 years ago. You also stay behind after your concerts so people can meet you. Not many celebrities do that," said English superfan Susan.