524 ambulances fail roadworthy tests last year
10.04.17
SOME 524 ambulances failed roadworthiness tests last year with 18 having to be towed away for repairs, new figures show.
A total of 1,225 ambulances including public, private and voluntary, underwent the mandatory Commercial Vehicle Roadworthiness Test (CVRT) in 2016.
Some 701 ambulances (57.2%) passed while 524 ambulances (42.7%) failed the test including 18 that received 'failed-dangerous' stickers.
The top equipment fails were faulty brakes; lights and steering alignment.
The top visual fails were faulty steering/suspension; brakes and lamps.
Some 497 ambulances were subsequently retested with 472 passing and 25 failing a second time. No ambulances were considered dangerous after the retest.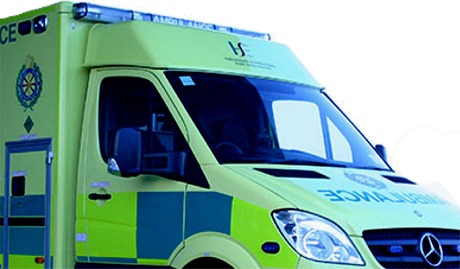 The HSE said the National Ambulance Service has a fleet of over 500 vehicles of which 270 are emergency ambulances.
"All are CVRT compliant and certified annually. There are 90 vehicles within the fleet which are less than one year old and therefore do not meet the requirement for testing," said a HSE spokesperson.
"Robust inspections are carried out on all frontline vehicles as well as the CVRT which is a mandatory requirement. A full vehicle inspection is also carried out every eight weeks on these vehicles which is in line with the RSA best practice requirements. The National Ambulance Service can confirm that all vehicles currently in the fleet are CVRT compliant."
The figures were released by the Commercial Vehicle Roadworthiness Reform section of the Road Safety Authority.
A total of 475,909 CVRTs were carried out in 2016 on the country's commercial fleet including buses, lorries, 4x4s, vans, ambulances and motor homes.
Some 250,149 (53%) passed the test with 225,760 (47%) vehicles failing.
A total of 8,992 commercial vehicles had to be towed from the test centre with 'failed-dangerous' stickers.
The top failure items included faulty brakes; lights and steering/suspension.
A breakdown of the figures show that 13,588 buses including public and private were tested in 2016. Of these, 6,503 (47.8%) passed while 7,085 (52.1%) failed including 321 buses receiving 'failed-dangerous' stickers.
Of the 7,051 buses taken back for a retest, 6,288 passed and 763 failed including 26 slapped again with 'failed-dangerous' stickers.