"I'd love another tan(go) at Strictly" says Daniel
07.09.16
COUNTRY star Daniel O'Donnell has revealed he would love to be part of Strictly Come Dancing again despite the stage fright he suffered on last yearís show.
The Donegal singer (54) watched the recent launch show for the new series and said he could barely believe he was one of last year's 15 competitors.
"I still canít believe that I got to be part of it last year. It sure is something Iíll never forget. I never thought I would say it, but even with the nerves, part of me would love to be back starting it all over again," he said.
Daniel was the last celebrity partner of Strictly Come Dancing stalwart Kristina Rihanoff who has quit the hit BBC show after eight years.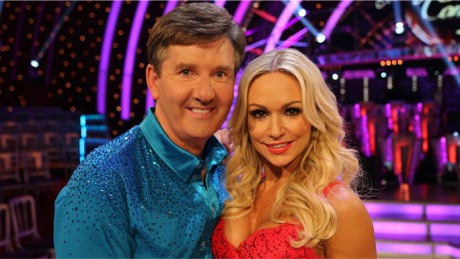 Daniel O'Donnell and his dance partner Kristina Rihanoff. Photo: BBC Strictly Come Dancing.
She and the Donegal crooner, who tackled a waltz, foxtrot and jive on the live shows, were the third couple to be voted off last time.
Daniel later admitted he was blindsided by performance anxiety that he had never before experienced in his 30-year career.
He said that, at times, he feared his legs would buckle under him and that his mind often went blank.
But he has been bringing some of what he learned on Strictly to the stage during his recent comeback gigs.
Meanwhile, he sent good wishes to this year's contestants including Wicklow-born TV star Laura Whitmore.
"I know exactly how they are feeling," he told fans via his personal website. "Great memories of all the lovely friends I made during my Strictly experience. Good luck to them all."