Pray the Force be with you, says Fr Charlie
13.05.16
by Linda McGrory

A PRIEST has heaped blessings on the Star Wars crew who are filming near his church in Malin Head.
Fr Charlie Logue said he hoped the Force will be with the huge entourage of actors, cinematographers, production staff and runners as they film scenes close to the aptly-named Star of the Sea chapel.
Speculation about what scenes will be shot at Ireland's most northerly point reached fever pitch this morning as Mark Hamill, aka Luke Skywalker, and other cast members including Daisy Ridley and Adam Driver were spotted arriving at Belfast International Airport.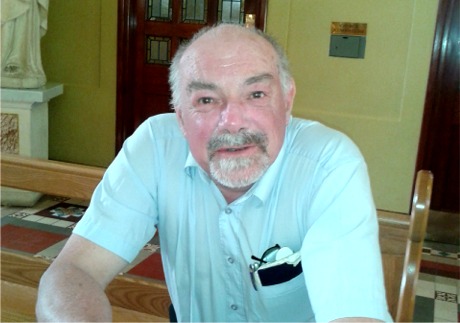 Clonmany-born Fr Charlie Logue is delighted Star Wars is shining a spotlight on Malin Head.
Meanwhile, the 64-year old Donegal curate said the Star Wars crew and their fans would be welcome to join his 300-strong congregation at mass this Sunday to pray for a successful film shoot.
"I don't know whether they're our Force or not but they will certainly be made very, very welcome," he laughed.
"There is a great buzz about 'the Head' and the people are in great form.
"This film is bringing the attention of the world to a place of outstanding natural beauty with very friendly people," said Fr Logue, who is president of Urris GAA club.
"Malin Head is also a place that has suffered a lot with emigration and unemployment and this film production is genuinely helping things.
"As far as I know they have employed a lot of local people for all different kinds of work and it's been great for the businesses, the hotels and the B&Bs – it's very positive," he added.
Meanwhile, the resident cleric said some of the local faithful have undoubtedly been praying for good weather as the production crew has been blessed with unseasonably warm, sunny conditions all week.
"It's a win-win situation. Their success is our success and I hope that they come back for an even bigger production some time in the future. Our door is always open," he added.
Meanwhile, Donegal County Council has closed off a looped road to a local headland until Sunday to allow uninterrupted filming between 8am and 9pm.