Greencastle girl Saoirse lands role in Sky 1 thriller

25.04.15
A YOUNG Derry-Inishowen actress is making a name for herself on stage and screen just a year after graduating from drama school.
Saoirse Monica Jackson has been enjoying rave reviews with a "truly captivating" debut performance in a production of the American classic 'Of Mice and Men' as it tours the UK with the Birmingham Repertory Theatre.
The 22-year old can also be seen in Sky 1 thriller 'The Five' where she plays Sasha Marsden, a character written into the ten-part series especially for the talented young performer.
Saoirse, a past pupil of St Cecilia's College in Derry, is the eldest daughter of Ruth and Sean Jackson.
She enjoyed a cross-border childhood with her two younger brothers, James (19) and Dill (17) as the family divided their time between Derry, the fishing village of Greencastle and Ruth's hometown of Buncrana.
Sean and Ruth ran the The Castle Inn in Greencastle for a number of years during the early noughties and still have a holiday home just outside the village.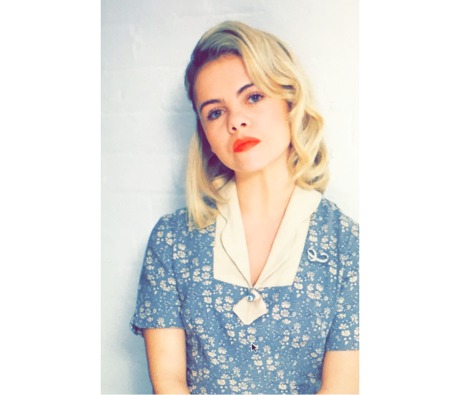 Saoirse Monica Jackson as Curley's wife in a production of 'Of Mice and Men' written by John Steinbeck and currently touring the UK with the Birmingham Repertory Theatre.
Saoirse caught the acting bug as a young child and heaps credit on her "amazing and supportive" drama teacher at St Cecilia's, Greta McTague from Moville.
She also spent many weekends as a youngster at the kids' club in The Cairn, a small local theatre in Greencastle.
"I sort of grew up in The Cairn when my mum and dad first got the Castle Inn. We were there every Saturday morning and it was a bonus for me that it was a drama kids' club. I did Christmas pantomimes there and I remember playing Tiger Lily in 'Peter Pan'.
"Going to St Cecilia's was great as well because my drama teacher, Greta McTague was just so good, she was fantastic."
The modest young actor says she was "lucky" to land a role in 'The Five' before she had even left drama school - The Arden School of Theatre in Manchester.
She was nearing graduation in the spring of 2015 when she was snapped up for the drama thriller, written by acclaimed author Harlan Coben.
"I got really really, lucky on my last year in drama school. I auditioned for an extra part in 'The Five', just one line really, and I kept getting called back in.
"Then one day I came in and met the director and the producer - just as well I didn't really know who they were or I would have been a bag of nerves," she laughs.
"They auditioned me again and then luckily after that, they liked me and they wrote the character for me. They got a writer to write me into the series which was an amazing opportunity for me, being still in drama school. I left drama school a wee bit early then to start filming 'The Five'."
After being encouraged to move down to London, Saoirse has since been signed up by the talent agency, 42, which represents acting stars including Michael Caine, John Hurt and Emily Mortimer.
She is currently touring the UK with 'Of Mice and Men' and is also in meetings about future acting jobs.
Of her debut theatre performance, The Reviews Hub recently wrote: "A special mention must also go to Saoirse-Monica Jackson whose debut to professional theatre as Curley's wife is truly captivating. The scene between her and Phillips, moments before her character's death, is one of the overall highlights of the whole show – the pair playing with stage levels and bouncing off each other's dialogue flawlessly."
And just for the record - given that she will also have to contend with tricky pronunciations of her Irish name - Saoirse Jackson is a huge fan of her famous Oscar-nominated namesake, Ms Ronan. She's also the same age as the 'Brooklyn' and 'The Lovely Bones' star. "I think she's absolutely brilliant, I think she's amazing," she said.