INISHOWEN and Derry are today joined in sadness after a family of five died in a tragic accident at Buncrana Pier last night.
The incident happened when an Audi Q7 got into difficulty on the slipway on the banks of Lough Swilly shortly after 7pm.
Local eyewitness Francis Crawford said he and his wife were on the pier after taking a drive after dinner.
He said he noticed the 4x4 on the slipway and opened the car window. He said the male driver of the vehicle yelled to him to "call the coastguard", as the vehicle became submerged in the deep tidal water. He said he got through to the emergency services immediately and a massive scale emergency operation got underway.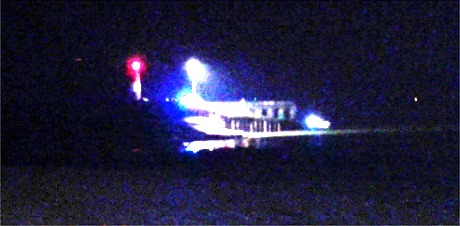 Buncrana Pier lit up last night during the major recovery operation.
Meanwhile a man from Kerrykeel got into the water and managed to save a young baby. Mr Crawford outlined harrowing details of the tragedy on RTE's Morning Ireland this morning.
He described the local and visiting emergency crews as "very professional" but said that ultimately there was nothing anyone could do to save the remaining occupants of the vehicle. The family are reportedly from the Galliagh area of Derry and included a woman in her 50s, her teenage daughter, the partner of another daughter and their two children. A large and silent crowd watched last night as a huge recovery operation took place lasting several hours. The local Beach House restaurant provided hot drinks, food and support to response teams on what was a bitterly cold evening. Gardai operated several cordons as crowds gathered in the distance. Shocked locals said the pier had earlier been busy with daytrippers and locals enjoying an unseasonably sunny spring day followed by one of Lough Swilly's stunning sunsets. The names of the accident victims have not yet been released. Post mortems are expected to be carried out later today at Letterkenny University Hospital. Meanwhile it is understood the rescued baby is doing well in hospital. Investigations are continuing today.